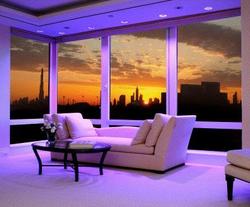 After unveiling a lower-lumen 6-inch prototype last year at LIGHTFAIR, we now have the world's most versatile, highest-lumen, glare-free solid-state LED downlight in two apertures: our brand new 4-inch model ED04 and a much brighter 6-inch production model
Las Vegas, NV (Vocus) May 21, 2008
Renaissance Lighting, a pioneering innovator of LED architectural lighting, will introduce the world's highest-quality commercially available 4-inch solid-state LED downlight at LIGHTFAIR International from May 28-30.
Visitors to the three-day-long LIGHTFAIR product exhibition will see a demonstration of Renaissance Lighting's newest product offering at four locations within the Las Vegas Convention Center: Renaissance Lighting/Booth 1121; Crestron Electronics/Booth 1447; and Heatron/Booth 2273.
As the newest arrival on the general illumination scene, solid-state LED lighting has yet to make a major market impact commensurate with its potential for outperforming and even replacing other types of lighting -- until now.
"Our goal is to be the solid-state downlight of choice, and we have the commercial, industrial and high-end residential products to do that now," said Renaissance Lighting CEO, Barry Weinbaum. "Our solid-state lighting systems support sustainable design while allowing precise control over color and intensity, taking full advantage of what LEDs can do for lighting in today's dynamic environments, in a turnkey package.
"After unveiling a lower-lumen 6-inch prototype last year at LIGHTFAIR, we now have the world's most versatile, highest-lumen, glare-free solid-state LED downlight in two apertures: our brand new 4-inch model ED04 and a much brighter 6-inch production model," Weinbaum continued.
The ED04 downlight's compact package greatly expands its potential for use in all kinds of applications, and especially those where ceiling congestion tends to restrict the use of larger fixtures. For offices, conference rooms and corridors, in particular, or where general illumination in commercial and industrial spaces is required, the ED04 downlight adapts seamlessly to virtually any lighting scenario. Where smaller is better, the ED04 is easier to install from a weight standpoint, too, and it performs extremely well in wet locations or in outdoor under-canopy applications, according to Weinbaum.
"Utilizing green technology to make it environmentally friendly, our new ED04 outperforms the most popular 4-inch 50 par 20 products, yet uses only half the energy. It's fully dimmable, and like all of our solid state products, is virtually maintenance free over the course of its 50,000-to-70,000-hour life span. Our customers will discover that Renaissance Lighting's new pricing makes the decision to use our solid-state products an easier one, especially when considering the total cost of ownership," Weinbaum said.
Renaissance Lighting's unique downlight design begins with a circular array of LEDs at the perimeter of a patented integrating dome inside each fixture. The company's unique optic design combines light uniformly before exiting the luminaire in glare-free fashion. The result is consistent color production and concealed sources that create smooth, uniform illumination patterns.
A light-sensing feedback system continually monitors and adjusts each luminaire to factory-calibrated color standards resulting in fixture-to-fixture consistency and light quality throughout the long life of each product, while producing the industry's purest single light source.
During LIGHTFAIR, visitors will be able to see Renaissance Lighting's RGB and white LED downlights in both 4-inch and 6-inch aperture formats. Weinbaum, Renaissance Lighting President Jack Rains and Vice President of Sales Rob McCulley will be on hand to demonstrate and discuss product features and benefits.
To schedule a meeting with a member of the management team during LIGHTFAIR, please contact Joe Arimond at 312-493-6535.
About Renaissance Lighting - Booth 1121
Renaissance Lighting, headquartered in Herndon, VA, produces highly creative lighting products delivering exceptional appearance, superior efficiency, and glare-free illumination for all architectural applications. The company's innovative approach to product engineering and design is supported by 27 patents including its optical and feedback control technologies.
About Crestron Electronics - Booth 1447
For nearly 40 years Crestron Electronics has been the world's leading manufacturer of advanced control and automation systems, innovating technology and reinventing the way people live and work. Offering integrated solutions to control lights, audio, video, computer, IP and environmental systems, Crestron streamlines technology, improving the quality of life for people in corporate boardrooms, conference rooms, classrooms, auditoriums, and in their homes.
About Heatron, Inc. - Booth 2273
Heatron offers a wide range of design, development, and manufacturing services, technology competencies including optics, thermal management, power sources and drivers, cost effective production and assembly capabilities, and in-depth industry and technology expertise. Heatron's new LED Design Center offers industry-leading design facilities accommodating the most complex projects.
Contact:
Joe Arimond
ECI Communications
847-381-1205 (direct)
312-493-6535 (cell)
###