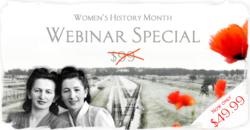 One of the most accurate accounts and the only account of the first women's camp in Auschwitz. This is a book historians will refer to for years to come.
New York, NY (PRWEB) February 25, 2013
Rena's Promise Foundation presents 4 interactive webinars, hosted by acclaimed author and accomplished educator, Heather Dune Macadam. Designed for educators, the webinars will provide unique historical information and insight into how to teach this history in classrooms. 2013 Women's History month marks the 71st anniversary of the first transport of women into Auschwitz. From the first registered transport of Jews, to the communist and resistance fighters of WWII, women have a proud heritage of survival; often struggling against much greater odds than men. The intense relationships these women maintained, their loyalty, courage and enduring spirit provides the backdrop for these fascinating webinars.
The History of Women in Auschwitz
Sun. March 17 (6pm EST) & Mon. March 18 (8pm EST)
The First Registered Jewish Transport to Auschwitz – All Women
Sun. March 24 (6pm EST) & Mon. 25 (8pm EST).
The webinars are sponsored by Rena's Promise LLC, which is also pleased to announce a new website http://www.renaspromise.com designed to educate, inform and enlighten educators and students by offering unique approaches to Holocaust studies. The site includes a historical timeline focused on women in Auschwitz, as well as the unique perspective that the Holocaust can provide positive messages to young people. The song "You Can Make It" donated by JEM adds to this new kind of Holocaust website, to help encourage young people to visit the site.
Rena's Promise, the book, was first published in 1995 with a new digital edition released in Feb. 2010 which went viral within months of its release, surpassing even The Diary of Anne Frank in sales figures. Rena's Promise stands out from other memoirs in the mere length of time Rena Kornreich spent in the camps—over 3 years. No other survivor from the first transport has ever written about her experience or what it meant to survive for so long. From her escape from Dr. Mengele's experiment, to her surreal meetings with SS woman Irma Grese, Rena's story is a dynamic tale of courage and compassion that reminds us of the resiliency of the human spirit, and the power of people who help one another in unimaginable circumstances, be they Gentile, Jew, German, Pole, kapo or prisoner.
AVAILABILITY:
Rena's Promise Author, Heather Dune Macadam is available for interviews. Please contact heather(at)renaspromise(dot)com to schedule a speaking or SKYPE engagement.
Rena's Promise Reviews:
"One of the most accurate accounts and the only account of the first women's camp in Auschwitz. This is a book historians will refer to for years to come."
—Irena Strezlecka, Director, Auschwitz Museum of Women, Oświęcim, Poland
"One of the most important books of the modern age." —Neil Lavon, Voice of America
"Written with simplicity and grace… the overwhelming feeling upon finishing is one of triumph: It is still possible to find selflessness and human connection among people living in a place of relentless horror."
—Los Angeles Times Book Review, USA
Rena's Promise Foundation and LLC
The Rena's Promise Foundation was created to further the vision of Holocaust survivor Rena Kornreich Gelissen and in honor of her memory, Rena's promise is a promise to create a more ecumenical world unhindered by prejudice, racism or hatred. We are achieving that mission by bringing young people together from all walks of life and providing them with a place to develop the cultural and creative voices of Generation NEXT.
Rena's Promise LLC is a separate body from The Rena's Promise Foundation and is responsible for book sales and other commercial activity not related to the Foundation.
For More Information:
Joanne Bloomfield
joanne(at)bloomfieldmarketing(dot)com
Tel: 631 403 4308
Fax: 631 403 4309