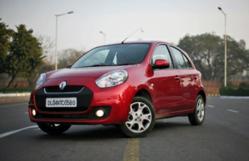 Gaadi.com Reports about Renault Pulse
Delhi, Delhi (PRWEB) April 10, 2013
Since Renault Pulse launched, the response from Indian car enthusiasts has been good as Indian consumers liked its design and also its technical specifications. Pulse is uniquely aligned with Nissan's Micra in many of the aspects; Gaadi.com, India's leading online portal for posting the particulars about used cars and new cars reports.
In a short span of two years, Pulse has been able to carve its niche within Indian automotive market considering that the segment has a tough competition from Maruti, the Indian Automotive giant. However, the car is yet to grab a major share in the automotive market.
Renault Pulse is designed by Renault's design center in Mumbai and built at the alliance plant in Chennai. The car is for those who want to have fun in driving through speed as well as fuel-efficiency.
Pulse, which is targeted towards the popular mass consumer segment, is Renault's attempt to mark a presence in all major car segments. In the mass segment, the Pulse competes with Maruti Swift, which has already been quite established in the market. The car was first showcased to the Indian public at the 2011 Formula 1 event at Greater Noida near New Delhi where Formula 1 drivers' team of Renault lifted the veil off the car for the first time. However, the diesel version of Pulse came later when it was officially launched at the Auto Expo 2012. The hatchback finally marked its entry into the Indian car market by winning 'PREMIUM HATCH OF THE YEAR' Award at NDTV Car & Bike Awards 2012.
Platform sharing or alliance is not a new phenomenon. It has been going on for some time. Till date, the products that came out of alliance of two companies had similar designs. However, regarding Pulse and Micra, the mechanism behind the outcome of the two products is a unique concept of intelligent engineering in which two state of the art products are produced at one place. Under this manner, costs are drastically cut and profit margins get exponentially increased.
However, this unique technical marvel is becoming harmful at commercial level as sale figures of both the cars are getting hampered by their similarities. Gaadi.com analyzes that although Pulse is powered by a 1461cc 4 cylinder K9K diesel engine that generates peak power of 63.12 bhp and peak torque of 160Nm yet its sales have been depleting since its launch in January, 2012. The B2 hatchback segment that comprise of big players like Swift, i10, i20, Figo, and Polo, is the highest contested segment in the Indian car market. In spite of carving its niche by winning the prestigious International award at the time of its launch, Pulse is still trailing behind in sales. It is rumoured that Pulse may be phased out soon and it may give way to Renault Sandero, another hatchback from Renault.
For car lovers, Gaadi.com has unveiled a detailed page of Renault Pulse that provides complete specifications, features, expert and user reviews along with some amazing pictures of Renault Pulse.
About The Company:
Gaadi.com is the leading online automotive marketplace bringing together car buyers and car sellers. New car buyers can research their car purchase while used car buyers can browse through the largest collection of inventory online. It is the best resource for new car research in India, providing users with information, opinions & tools to ease the process of finding a suitable car. Gaadi.com's used car marketplace is the best in online space with a comprehensively curated and photographed stock of used cars. It provides a transparent and reliable platform for used car listings with detailed information for used car buyers.
Visit http://www.gaadi.com/Renault-Pulse to know more Renault Pulse at Gaadi.com