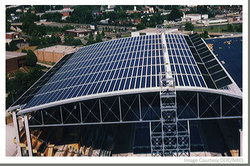 Prospectively dubbed the 'Intermodal Array;' the roof-top PV array would generate clean, renewable power from the sun without taking up valuable land at the project site
Phoenix, AZ (PRWEB) February 1, 2009
NRG Shift has been selected as the alternative energy consultant for Rolling Hills Ranch in their residential and commercial land development project. The development is comprised of ranch properties and a large commercial development area with an Intermodal Rail Port planned which includes warehousing for large shipments of products being brought in from outside the U.S.
"Prospectively dubbed the 'Intermodal Array;' the roof-top PV array would generate clean, renewable power from the sun without taking up valuable land at the project site," says Brandon O'Donnell, Managing Director for NRG Shift. Although the area is worth considering for wind power, current covenant restrictions limit larger-scale wind generation options so primary interest is in a large-scale rooftop array for the immense buildings in the intermodal port. A representative of Rolling Hills Ranch stated that "Viability is certainly there for landowners at the development that wish to take advantage of solar tax credits and rebates from Arizona and Federal energy programs and we hope the tax credits will be extended by the Obama Administration."
The prospective array project would cover tens of thousands of square meters of warehouse space, making a significant impact on energy costs and helping Arizona meet its 15 percent goal for renewable power in the State. The group also hopes to assist the mission of the U.S. Department of Energy's Office of Energy Efficiency and Renewable Energy (EERE) to enhance energy efficiency and productivity. These are bound to be hot topics at this week's 2009 EUEC, Energy & Environment Conference in Phoenix.
The rooftop arrays will serve two important purposes at the Rolling Hills Ranch development: first and foremost they will provide a long-term, reliable source of renewable energy powered by the sun. Second, and not to be treated lightly, they will increase efficiency of the intermodal port simply by their existence, lowering the carbon footprint, increasing carbon credits of the facility dramatically. By adding solar arrays to the wide open expanses of rooftops, which are continually immersed in solar energy, the result may be an insulating factor, further reducing heat transfer into the building itself, increasing worker comfort without increasing either cooling capacity or energy usage.
NRG Shift plans to seek application information and receive proposals for solar arrays in the planning of the project. Inquiries pr proposals from qualified manufacturers of solar products may be directed to NRG Shift in relation to the Rolling Hills Ranch project.
About Rolling Hills Ranch:
Rolling Hills Ranches is a developed ranch community located in northern Arizona. The ranch is comprised of 40-acre and larger lots suitable for home building or ranching and is ideal for those who wish to enjoy a rural lifestyle. Power and water are available and the community is bordered by paved roads on two sides. The commercial side of the project includes an intermodal rail port facing Interstate 40 which runs east and west through Arizona, also providing a buffer zone from the Interstate for ranch owners.
For more information about Rolling Hills Ranches please contact:
About NRG Shift:
NRG Shift assists clients in making informed decisions about investing in renewable energy. NRG Shift works with commercial enterprises, start-ups, investors, and builders to evaluate & plan many forms of cleantech, energy efficiency & renewable energy projects. Service offerings include project & program management, feasibility studies, technology research & evaluation, logistic & supply planning, meeting & seminar representation, training and public speaking services.
For more information about NRG Shift and how you can leverage their expertise on your renewable energy project please contact:
Brandon O'Donnell
Managing Director
NRG Shift
Ph: 612-703-7177
Web: NRGshift.com
Safe Harbor Statement:
This press release contains forward-looking statements, which are made in reliance upon the "Safe Harbor" provisions of the Private Securities Litigation Reform Act of 1995. Actual results could differ materially from the statements expressed or implied herein due to a variety of factors including, but not limited to: the development of the Navajo intermodal port and associated properties, the successful marketing and funding of the project, market acceptance of NRG Shift solutions & services, market availability of appropriate products and technology, competition & timing of projects & trends in the renewable energy industry, as well as other factors. The forward looking statements contained here are made only as of the date of this press release and NRG Shift will undertake no obligation to update such forward looking statements to reflect subsequent events or circumstances.
# # #