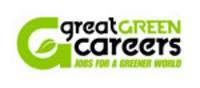 The members of our audience want to bring their value systems to their careers. Great Green Careers is our way of helping them find work that is fulfilling as well as rewarding while we bring our business allies highly competent and highly committed candidates
Topeka, Kan. (Vocus) October 13, 2009
In less than six months since its launch, Great Green Careers (GreatGreenCareers.com) stands as one of the top five most popular green job boards in North America.
Great Green Careers' unique visitors and total monthly traffic ranks it in the top five of more than 30 green job sites based on cumulative data from Alexa, Compete and Quantcast. The site's Alexa ranking alone has increased 274 percent since its inception.
"The members of our audience want to bring their value systems to their careers. Great Green Careers is our way of helping them find work that is fulfilling as well as rewarding while we bring our business allies highly competent and highly committed candidates," says Bryan Welch, publisher and editorial director of Ogden Publications, owner of Great Green Careers.
Ogden Publications, the largest and longest-running publisher in the green community, launched Great Green Careers April 22. The employment Web site focuses on matching companies and job seekers for careers in fields such as renewable energy, the environment, clean tech and sustainable building.
Ogden has leveraged its 3.3 million print readers and 1.5 million monthly online visitors to promote Great Green Careers through dedicated e-mails, e-newsletter mentions, and online and house ads. Promotions run in Mother Earth News (the Audit Bureau of Circulations' fastest-growing publication on U.S. newsstands during the first half of this year), Natural Home, Utne Reader, Grit and The Herb Companion. Great Green Careers also uses social media sites including Twitter, Facebook and LinkedIn's Green Jobs & Career Network.
Using coupon code GCC1009, employers can post jobs on Great Green Careers starting at $99 for a 30-day listing. The site also offers standard and customized packages that include additional job postings and extended posting periods.
Companies can search the resume database, giving them unique access to a concentrated pool of applicants who are interested in specific areas of the green job sector. Firms also can set up "resume agents" to automatically e-mail them the best resumes matching their needs. In addition, employers can track applications to their job postings, create and update their company profiles, and use Great Green Careers' Employer Resources area, which contains links to and research about green jobs and general recruiting/human resources information.
About Great Green Careers
Great Green Careers (http://www.GreatGreenCareers.com) connects employers and job seekers in the green jobs industries. The green job market includes energy, environment, skilled trades and transportation. Great Green Careers is a service of Ogden Publications Inc., publisher of Mother Earth News, Utne Reader, Natural Home and many other books and magazines for people interested in self-sufficiency, sustainability, rural lifestyles and farm memorabilia.
About Ogden Publications Inc.
Ogden Publications Inc. (OgdenPubs.com) is the leading information resource serving the sustainable living, rural lifestyle, farm memorabilia and classic motorcycle communities. Key brands include Mother Earth News, Natural Home, Utne Reader, Capper's and Grit. Ogden Publications also provides insurance and financial services through its Capper's Insurance Service division.
###