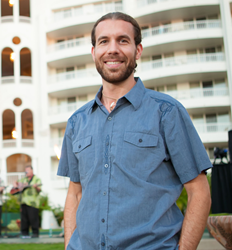 "This is a dynamic time for renewable energy in the United States, as brown and green power reach grid-parity, and I'm honored to join a great panel to share this information with Forum attendees."
Boulder, CO (PRWEB) January 12, 2015
Colorado-based Renewable Choice Energy announced today that founder and CEO Quayle Hodek will be a speaker at the upcoming GreenBiz Forum event held February 17-19, 2015 in Phoenix. Hodek will join representatives from Salesforce.com, Facebook, and Johnson and Johnson on a panel entitled "A CSO's Guide to Renewable Energy."
Hodek is widely recognized as a pioneer in green power marketing for his efforts introducing renewable energy and carbon reduction options to new markets and industries. Since founding the company in 2001, Hodek has built Renewable Choice into one of the largest and most respected renewable energy and sustainability companies in the U.S. In 2006, Hodek helped Whole Foods Market become the first major corporation to go to 100% renewable energy, spurring dozens of other multinational corporations to follow suit. Today, the company's clients include 60 of the Fortune 500, more than 5,000 LEED-certified green buildings, and scores of government clients and middle-market businesses. In 2012, and again in 2014, Renewable Choice was recognized by the U.S. Environmental Protection Agency as a Green Power Supplier of the Year.
Under Hodek's leadership, Renewable Choice has developed innovative products and services to meet the growing demand for sustainable alternatives, including the Wind Power Card, the first renewable energy retail product and Green Your Phone, a cell phone offset product developed in conjunction with Best Buy. In 2012, the company launched its consulting subsidiary, Mosaic Sustainability.
Hodek has been featured in numerous national and international media outlets including The New York Times and the Wall Street Journal, and was most recently recognized as one of the Top 25 Most Influential Young Professionals in Colorado by Colorado Biz magazine.
"I am delighted to have the opportunity to speak at the GreenBiz Forum," said Hodek. "This is a dynamic time for renewable energy in the United States, as brown and green power reach grid-parity, and I'm honored to join a great panel to share this information with Forum attendees."
About Renewable Choice
Renewable Choice Energy is a leading global provider of products and services that help companies understand and reduce their climate impact. The company offers a broad portfolio of solutions, including Green-e® certified renewable energy credits and carbon offsets, sustainability consulting, and renewable energy advising services. Recognized as a trusted partner to thousands of major brands, municipalities, universities, green buildings, and small-to-medium sized businesses, Renewable Choice received the Green Power Supplier of the Year award from the U.S. Environmental Protection Agency in 2012 and 2014 and is a certified B Corporation. To learn more, visit http://www.renewablechoice.com.