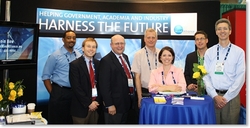 The Wind Alliance is a critical component to the future success of the US wind industry. Bringing together industry, government and academia creates a platform for synergy and collaboration, which can be turned into executable projects.
Houston, TX (PRWEB) September 24, 2010
The Wind Alliance will hold its Fall 2010 Conference in Albuquerque, New Mexico on November 3-4, 2010. The conference will feature a unique networking dinner at the Albuquerque Museum of Art and History, with cocktails and a Latin trio for entertainment. The focus of the conference is to update attendees on wind research activities from the U.S. National Labs. Collaborative opportunities within workforce, technology and infrastructure will be presented and discussed at the conference.
Speakers from prominent U.S. National Labs will present latest findings:

Jose Zayas, Program Manager for Wind and Water Technologies Department at Sandia National Laboratory
Paul Veers, Chief Engineer at The National Renewable Energy Laboratory
Audun Botterud, Energy Systems Engineer in the Center for Energy, Environmental and Economic Systems Analysis at Argonne National Laboratory
Harold Brooks, Research Meteorologist at National Severe Storms Laboratory
Committees will meet on the first day of the conference. Committee chairs and co-chairs will report on current projects and lead audience discussion regarding future opportunities. Committee meetings are open to all attendees.
Workforce Committee meeting features Chair, Sam Holmes, III, Senior Technology Manager of Shell WindEnergy, Inc and Co-Chair, Andrew Swift, Director, Wind Science and Energy Research Center
Technology Committee meeting features Chair, Carsten Westergaard, Director, Global Technology Vestas Technology R&D Americas and Co-Chair, John Pappas, Wind Center Director at Texas A&M University
Infrastructure Committee meeting features Chair, Peter Lorenz, President, Quanta Services and Claire Henkhaus, Associate Director of The Wind Alliance
Additionally, John Pappas, Wind Center Director at Texas A&M University will lead a ground-breaking discussion on The Wind Alliance's new offshore plan for the Gulf of Mexico. This comprehensive plan outlines methodologies to quickly implement profitable offshore wind energy production for the United States.
Please join us. Space is limited. Find a link for registration at: http://www.TheWindAlliance.org.
About The Wind Alliance
The wind industry needs standards and resources that do not currently exist. The Wind Alliance is a national collaboration of over 50 entities in industry, academia and the public sector. We are working together to solve unsolved problems within the areas of workforce, technology and infrastructure. We are designing and implementing precompetitive solutions to catapult the industry forward. As our unique organization focuses on project development and execution (we do not lobby or attempt to influence policy), we are complementary to AWEA and other wind organization.
For information about membership, see http://www.TheWindAlliance.org or call us at 713-600-9994.
# # #