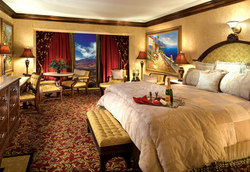 Our new 62,000 square foot Tuscany Ballroom and hotel tower impressed the Safari Club and was one of the factors in the organization keeping its convention in Reno
Reno, NV (PRWEB) December 20, 2007
Gov. Jim Gibbons, Nevada First Lady Dawn Gibbons, Reno Mayor Bob Cashell, and State Senator Bill Raggio are helping the Peppermill celebrate the Grand Opening of its $400 million expansion on Thursday, Dec. 20 from 11:30am - 1:30pm.
This expansion is creating a resort atmosphere unlike any other in the region as well as helping reshape the tourism and gaming industries in the Reno-Tahoe area. "The expansion is emblematic of the renaissance that is taking place throughout Reno-Tahoe and I congratulate the Peppermill for its leadership in making a great tourism and convention product even better," said Ellie Oppenheim, Reno-Sparks Convention and Visitors Authority President and CEO.
Not since the Silver Legacy was built in 1995, has Reno seen a new hotel/casino or resort expansion of this size. Companies from across the country are visiting the Peppermill and Reno-Sparks for convention and vacation opportunities. The Peppermill is the headquarter hotel for Safari Club International in 2008, 2009, and 2010. The Safari Club International is Reno's largest convention and one of the top conventions in the country. "Our new 62,000 square foot Tuscany Ballroom and hotel tower impressed the Safari Club and was one of the factors in the organization keeping its convention in Reno," said Rick Chapman, Peppermill Director of Sales.
The Peppermill first opened in 1971 as a coffee shop by Reno residents Bill Paganetti and Nat Carasali. Since 1971, the Peppermill has undergone nine major expansions.
Grand Opening
Date: Thursday, Dec. 20
Time: 11:30am - 1:30pm; Ribbon Cutting: 12:30pm
Location: Peppermill Tuscany Ballroom
Facts:
Grand Opening Features
Tuscany Tower
-600 room luxury tower
-8 distinct designs that range from 550 square feet to 2,200 square feet
-Plush pillow-top king size beds, two high-definition televisions, custom-made furniture, hand-painted art, marble bathrooms with European-style soaking tub, enclosed shower with dual shower heads, Wi-Fi access, and much more
Peppermill Tuscany Ballroom
-62,000 square-feet
-Largest free span convention center in northern Nevada
-Safari Club in January 2008 - 2010
Willie Nelson and Merle Haggard in concert on Saturday, Feb. 9
Howie Mandel performs on Saturday, March 1
Biscotti's
-10th and newest restaurant
-More than 360 seats
-Decorated with hand-painted murals inspired from Italy, hand-blown lamps, Cypress Trees, and statues
-Biscotti's menu features innovative dishes as well as twists on classic comfort foods
-Wine bar and wine cellar
Biscotti's Café
-Quick cup of coffee or espresso
-Freshly made-to-order crepes
-Gelatos
-Hand-made pastries and sandwiches
Terrace Lounge
-Reno's newest and hottest lounge
-Features oversized couches and chairs
-Live piano music
-Hand-painted murals inspired from scenes in Italy
-Wi-Fi access
Wedding Chapels
-Two romantic wedding chapels
-New bridal suites
-bridal services: Rehearsal diner, ceremony, reception, photography, DJ, flowers, cake, spa, and salon services
Coming in 2008
-Three-story spa and salon
-Resort pools with Tuscan gardens
-Nightclub
-Restaurants
###