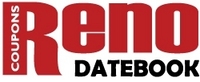 Reno, NV (PRWEB) April 15, 2011
RenoDatebook.com, which has quickly risen to prominence as the Reno/Sparks area's comprehensive online resource for local events and activities, announced this week that the site would offer limited edition coupons for local businesses. Unlike other online coupon services, RenoDatebook.com focuses exclusively on local companies and consumers.
"We've gone live on April 15," says Phil Peretz, cofounder of Reno Datebook. "We think everyone will appreciate a break on during the weekend where they are working on taxes."
Peretz studied the success of services like Groupon, and then developed a program to stimulate local economic activity, helping consumers, businesses, and non-profits, too. "Each month, we'll donate 5% of our coupon revenues different local non-profits. When the customer purchases a Reno Datebook Coupon, they have the opportunity to select from a list of non-profits that will benefit from the purchases. We want our entire community to benefit from this service. Plus, we think people will like our Buy Local-Keep the money in the community theme."
Serial entrepreneur Peretz, who runs Media Media Inc. with his wife Catherine Young-Peretz, designed the new program with the real-world needs of businesses and consumers in mind. Thanks to Media Media's technical know-how, coupon issuers have complete control over how many coupons are distributed and redeemed; each coupon bears a unique serial number and can be used only once. This protects the business from unintended consequences of a too-popular offer, which is a common pitfall of conventional coupon offers. Because Reno Datebook is a local company with lower infrastructure costs, the advertiser gets a much larger share of the revenue than Groupon or Living Social, and all of the money stays in our community.
Since RenoDatebook.com is already a popular site for active locals, coupons offer businesses an easy way to attract new customers and reach out to previous customers that are more cost-conscious because of the recession.
"The customer gets a deal, the business gets a low-cost chance to grow, and a local non-profit gets a contribution. It's a win-win-win scenario - my favorite kind," says a grinning Peretz. For more information, visit http://www.renodatebook.com .
About Reno Datebook:
According to Oliver X, of Reno Tahoe Tonight, "Phil Peretz and his wife Catherine Young-Peretz have built an informational juggernaut called Reno Datebook…Reno Datebook's clean look, easy navigation, and through coverage of nearly every human activity one could possibly think of searching, makes it the leading online billboard." For more information, visit http://www.renodatebook.com .
About Phil Peretz:
CEO and Founder of Indie Artists Alliance and Media Media Inc, Phil Peretz is the author of 1,000 Resumes, One Job….An Employer's Perspective. Peretz co-owns Nationwide Barcode, and he and wife Catherine Young-Peretz own Media Media Inc., located in Reno, Nevada. Media Media Inc. helps small and emerging businesses communicate via traditional marketing and social networking. For more information, visit http://www.mediamediainc.com .
# # #