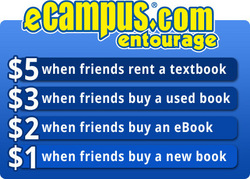 The eCampus.com Entourage is moving forward in support of our customers at a time when other programs are scaling back
Lexington, KY (Vocus) September 15, 2010
eCampus.com is proud to announce the implementation of a new tiered rewards system making the eCampus Entourage the most lucrative student textbook rewards program in the country. While other companies are scaling back their commission structures, eCampus.com is actually increasing rewards for members. Anyone with an Entourage code will still receive 5% off their eCampus.com orders for as long as they are in school and receive $5 whenever friends rent textbooks, but as of September 1st, students will also receive $3 for used textbooks, $2 for eTextbooks and $1 for new textbook purchases.
"The eCampus.com Entourage is moving forward in support of our customers at a time when other programs are scaling back," said eCampus.com CEO Matt Montgomery. "We are not afraid to support the loyalty of our customers monetarily through the Entourage program or by offering the lowest prices on textbook rentals and purchases every day."
Launched in June as a textbook rental rewards group, the eCampus Entourage has enjoyed explosive growth. Students from all corners of the country have signed up to start their own Entourages, making hundreds of dollars in the process.
Here's how the eCampus Entourage works – Students sign up for a free account at http://www.ecampusentourage.com and are given a unique code to use for purchases at eCampus.com. Each code is good for a 5% discount on all purchases as well as a $5 bonus when selling books back to eCampus.com. Ambassadors are encouraged to build their own Entourage by sharing their unique code with friends who will then receive the same benefits when placing orders. Each time a friend uses an Entourage code to rent, purchase new or used textbooks or download eTextbooks, that Entourage member will receive $5, $3, $2 or $1 respectively, depending on the item purchased, with a maximum reward of $5 per order.
In order to ensure that the ambassadors have every opportunity to be successful, eCampus.com provides continual marketing support and direction to students hoping to grow their entourage. The eCampus.com Entourage web site (http://www.ecampusentourage.com) has been built to include a myriad of social media sharing tools designed to help ambassadors market their codes through Facebook posts, Twitter, blogs, email, text messaging and video. They will also have the ability to print flyers with their custom ambassador code that can be distributed at campus hot spots.
Montgomery continues, "We are in the business of understanding the collegiate market and we know that the one thing they need more than anything is a little extra cash to get them through the semester. Everybody wins with the eCampus Entourage."
About eCampus.com
Since its founding in July of 1999, eCampus.com has grown into a major online retailer providing cheap textbooks for college and high school students. eCampus.com's mission is to provide the easiest, fastest, and cheapest way for college and university students to rent textbooks, buy textbooks and sell textbooks. eCampus.com believes the Internet buying experience should be fun and that shopping for textbooks should be as fast and convenient as possible. The company makes a personal commitment to every customer that eCampus.com will be the best source for everything they need.
Contact
Brett Morris
Social Media Marketing and Brand Manager
Phone 859-514-6869
Fax 859-514-6814
Email bmorris(at)ecampus(dot)com
###