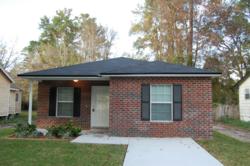 Any person that submits a request online using the new showings form can view any vacant property within 15 minutes.
Jacksonville, Florida (PRWEB) December 24, 2012
ForRentJacksonville.com has launched a new rent to own homes section online. More information can be found online at http://www.forrentjacksonville.com. This new addition to the company website is designed to introduce individuals and families to the new homes that are now available online. These newly listed houses are owned and operated in-house and no realtors are required to seek vacancy in these homes.
Populous cities like Jacksonville are tourist destinations and this can often decrease the amount of rental housing that is available each year. Tourists often select housing instead of apartments to enjoy short and long-term stays in and around the city.
Individuals or families that require immediate housing can be disadvantaged by the shortage that can be experienced without a reliable source to find vacancies.
The ForRentJacksonville.com website now lists all of its properties online to help close the gap that renters can face when researching for vacant homes to rent. New homes are acquired by this company and are frequently added to the new and improved online search area that is accessible from any Internet connection or mobile device.
To go with the new additions to the company website, a brand new showings form has been created to help remove delays that can happen due to offline application processing. Any person that submits a request online using the new showings form can view any vacant property within 15 minutes guaranteed. This new strategy is designed to offer a faster way to do a walk through of each home.
New team members have been added to the ForRentJacksonville.com family to help place men and women into homes without traditional delays. One way that the new team members are expediting the newly listed rentals is with the elimination of credit checks. No application that is submitted online or offline is required to go through a check of credit before approval is made.
The property search feature now added online is one way that the current vacancies can be viewed before an application for rent is submitted. This page can be accessed at http://www.forrentjacksonville.com/homes-for-rent.
About For Rent Jacksonville
The For Rent Jacksonville website was launched in 2012 and is owned and operated by Peace of Mind Rental Homes. This property management company owns more than 100 properties in the North Florida area and specializes in placing individuals and families into beautiful homes. With lower than market rent pricing, the For Rent Jacksonville website is able to provide affordable housing solutions to those that seek alternatives to renting a home. The no credit check policy and new showings form are two incentives that have helped this company to stand out from realtors or private landlords renting properties.