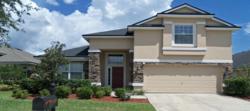 The houses that are now renting are owned by actual owners and not realtors or property management companies.
Jacksonville, Florida (PRWEB) December 24, 2012
Searching for a house to rent can be challenging without help from a realtor or property management company. The HomesJacksonvilleFlorida.com website is now helping more renters to find available vacancies through a new rent to own houses in Jacksonville, FL list published online. This list can be accessed http://www.homesjacksonvilleflorida.com and an online application process can be completed for each property available.
One of the blockades that can happen to someone that is interested in renting a home is a credit check. Those that have damaged or even poor credit can have more difficulty being approved for a lease. Most companies have certain scores that are used to determine the credit worthiness of a renter before approval is made.
The new properties that are listed online can now be applied to rent by a person with a good or bad credit history entirely online. A brand new application feature is now available for use.
This new change in credit policy is designed to help all that apply for the new listings that are available. The houses that are now renting are owned by actual owners and not realtors or property management companies. This easing of credit restrictions is expected to help place men and women into homes regardless of past credit histories.
The new listings now searchable online include accurate data. An internal review process is completed promptly to ensure that all renters are approved in sufficient time. The listings are updated with new photos, square footage and more information to help provide some of the same data that would normally be gathered during an in-person visit and walk through. The search page for the homes can be accessed at this link http://www.homesjacksonvilleflorida.com/listing-property.
About Homes Jacksonville Florida
The Homes Jacksonville Florida company started online in 2010. This company is owned by real estate professionals with decades of experience. Each home that is posted online for renters by this company is immediately available through an online application process. By working strictly with private owners, the houses that are now available for rent from the Homes Jacksonville Florida company are designed for faster renter approval. This elimination of the negotiation process is one way that this non-realty company has been able to help more men and women seeking housing in North Florida over the past 24 months.