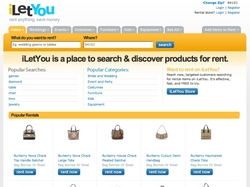 iLetYou provides an unparalleled online resource with the widest selection of rental products available anywhere, connecting consumers to reputable rental companies online in one destination. There are 65,000 rental stores in the US alone, and our job is to connect people to those stores and their outstanding rental products
San Francisco, CA (PRWEB) October 22, 2008
iLetYou officially launched its rental search engine for all products today.
iLetYou's rental search engine makes it convenient for people to find and discover rental stores and products, such as costumes, games, tuxedos, gowns, jewelry, limos, books, toys, decorations, linens, equipment, and furniture. iLetYou has over 100,000 total items available for immediate rental from over 30,000 rental stores, creating the largest and most diverse online or offline rental destination in the US.
In time for Halloween, iLetYou has launched with a deep selection of costumes for rent with nationwide shipping. iLetYou makes it simple to find and explore over 20,000 costumes for rent, from fan favorites like The Joker to more eclectic fare normally difficult to find.
iLetYou also provides an online store platform and services to rental businesses large and small, providing hosted online rental software and a fully customizable online rental experience whether the rental takes place online or offline. Rental businesses, established and new, can list unlimited items in the search engine and try a fully functional online rental store for free.
In a slower economy, rental enables consumers to enjoy goods temporarily without the accompanying price of ownership in both economic and environmental costs.
"iLetYou provides an unparalleled online resource with the widest selection of rental products available anywhere, connecting consumers to reputable rental companies online in one destination. There are 65,000 rental stores in the US alone, and our job is to connect people to those stores and their outstanding rental products," said Rodger Visitacion, Founder and CEO of iLetYou. "You'll be shocked at some of the amazing costumes you'll find to rent at iLetYou."
About iLetYou, Inc.
iLetYou, Inc. was founded in 2006 to bring open rental platforms online, democratizing the online rental experience and efficiently connecting renters to stores. iLetYou, Inc. is based in San Francisco, California.
For more information, visit http://www.iletyou.com or e-mail pr @ iletyou.com.
###