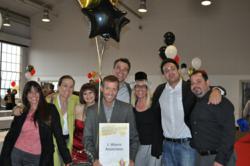 J.Wavro Associates is always a wonderful addition to our annual trade show. Their booth is always full of lively associates happy to chat with San Francisco Landlords
Mill Valley, CA (Vocus/PRWEB) June 07, 2011
For the sixth year in a row, J.Wavro Associates, a San Francisco property management and leasing firm that specializes in rental property leasing and executive relocation, attended the San Francisco Apartment Association's (SFAA) Spring Boutique Tradeshow, "Hooray for Hollywood." Held on April 18th at Fort Mason, this event brought in over 300 SFAA members to interact one-on-one with representatives from businesses that provide products and services to the owners of properties.
J.Wavro Associates has attended this event for six years in a row, which has given their leasing agents a chance to interact with hundreds of owners, and answer specific questions regarding their property needs. This year, J.Wavro Associates was among 35 exhibitors at the show.
"J.Wavro Associates is always a wonderful addition to our annual trade show. Their booth is always full of lively associates happy to chat with San Francisco Landlords," said Deputy Director of SFAA Vanessa Khaleel. "We are so happy to have them participate and add their positive energy to each and every show."
Since 1917 the San Francisco Apartment Association has kept San Francisco housing owners informed about how to manage their property. Their service helps them protect the value of their investment, keeps them informed about their rights as owners, and affords them peace of mind. They have hosted the Annual Spring Boutique Trade Show for over 20 years.
J.Wavro Associates employs more than 20 licensed real estate professionals who specialize in rental property leasing and executive relocation service in the San Francisco Bay Area. Their leasing services help property owners enjoy the profit from their rental investments without any of the hassle. Their relocation specialists save renters time and money by quickly finding the right apartment to fit their needs.
For more information about J.Wavro Associates, call them at (415) 675-8804 or visit them on the web at http://www.jwavro-sf.com.
About J.Wavro Associates
J.Wavro Associates is a group of licensed real estate professionals specializing in rental property leasing and executive relocation in the San Francisco Bay Area. They specialize in helping to lease rental properties, and have an extensive corporate and private network that allows them to consistently attract suitable tenants. Their Bay Area executive relocation specialists offer rental assistance to people looking to move to the Bay Area or locals looking for a new home. The real estate professionals of J.Wavro Associates can provide a wealth of knowledge on a particular neighborhood or neighborhoods of interest to clients. They will also identify specific properties that fit the client's exact needs and budget. As part of their executive relocation service, J.Wavro Associates will arrange appointments, provide property tours and assist in lease negotiations.
J.Wavro Associates serves the City of San Francisco and other Bay Area locations including the South Bay and Marin.
###