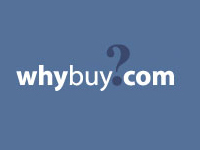 We're proud to announce that WhyBuy.com is shaping up to be such a popular rental listing service on the Internet
Atlanta, GA (PRWEB) May 13, 2008
Recently launched rental website WhyBuy.com is offering free listings of rental items to its users and hopes to attract more item owners to list on the website and save them time and money as well. This innovative rental listing service allows owners to list their items for rent on WhyBuy.com for free, using the website as a support tool. When you add or edit a listing on WhyBuy.com, the posting is then distributed to other rental website partners through various list share arrangements that the website has made.
This distribution brings enormous exposure to the free listings as they are spread through a vast and ever growing network of sites. Unlike other online rental sites that charge fees and hidden costs for listings, WhyBuy.com continues to offer free listings for the many categories on the site.
"We're proud to announce that WhyBuy.com is shaping up to be such a popular rental listing service on the Internet," said Woody Alpern, one of the founders of WhyBuy.com. "We're glad we can offer our services for free and save our users time and money unlike other rental website options."
By using WhyBuy.com, customers can list any of their items for free and connect with users who need their products or services, making this rental website a continuously growing source of unlimited rental items. In addition to WhyBuy.com's standard service, their premium partner site, http://www.whybuyrental.com, offers users additional benefits which are currently available at no charge, and this includes the ability to upload up to 250 additional photos of the rental item and more. For maximum results, all rental listings on WhyBuy.com are fully optimized on the search engines. For more details or to begin listing your items for free, please visit http://www.whybuy.com.
About WhyBuy.com:
WhyBuy.com is an innovative website that offers free rental listing services for any type of item available for rent, from apartments to vehicles to tools. Rather than charging its users, the rental website's revenue comes from other sources, including affiliate partnerships, a premium version of the site, and sales of advertising. The site was founded in 2008 by a group of Atlanta-area entrepreneurs.
###