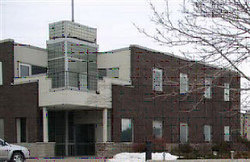 We love to help people all over the country with their wedding and party decor rental needs
Minneapolis, MN (PRWEB) June 12, 2008
Linen Effects, Inc has completed its move into a new, state-of-the-art facility by the Mississippi River near Downtown Minneapolis. The company's new headquarters will house its entire warehouse, sales and operations, and its modern laundry facilities, enabling it to continue its tremendous growth as a premier supplier of rental table linens, chair covers and table accessories to the wedding, party and event industries.
According to Don Jensen, owner of Linen Effects, "having twice the space allows us to continue to expand our selections and improve customer service while being more energy efficient." The new space is over twice as large and is closer to the company's major customers in the downtown area. In addition, with the installation of new computerized laundry equipment, the company expects to use much less water and chemicals in its laundry process, greatly improving efficiencies and reducing the impact on the environment.
"We filled up our old warehouse to the rafters and after 8 years it just could not hold any more" - added Kurt Silton, General Manager, speaking about the old building. "We have a lot of cool, trendy, and elegant rental supplies, but to stay at the top of our game, we need to have the ability to keep up with changing fashions and colors." And with the additional space, comes continued ability to service a national market via the internet. "We love to help people all over the country with their wedding and party decor rental needs" - concluded Silton.
The new 24,000 sq foot facility is located on West River Road North in Minneapolis. It is situated in the rapidly changing industrial park located on the scenic Mississippi River just north of downtown Minneapolis. The city has encouraged growth in this area by developing the riverfront with green spaces and bike paths as well as cleaning up some of the older industrial sites. Several other companies have made significant investments in this area with new or revitalized buildings.
Linen Effects' new address:
1801 W. River Road N
Minneapolis, MN 55411
For additional information and media inquiries, or any questions regarding products, promotions, and special programs, contact Kurt Silton or visit http://www.lineneffects.com.
About Linen Effects, Inc.:
Linen Effects is the leading provider of upscale rental supplies and decor services for the wedding, party, and event industry and is well known for its award-winning designs of elegant wedding receptions, corporate parties, and large galas. The company carries a large selection of chair covers, table linens, and tabletop accessories for rent from basic white to custom imported fabrics and styles. Primary customers of Linen Effects include professional event and wedding planners, convention hotels, and premium country clubs.
Contact:
Kurt Silton, General Manager
Linen Effects, Inc.
(612) 355-2500
http://www.lineneffects.com
###