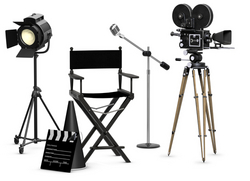 "ERP features that no other rental software on the market offers."
Glendale, CA (PRWEB) April 22, 2010
Information Integration Group is pleased to announce the release of its fully integrated Rental Management Software for the Audio, Video, Production and Heavy Equipment industry. This product was developed on IIG's Rental Industry solution, with the goal of publishing a fully integrated sales, rental, crewing, CRM and project accounting software, using the expertise gained by supporting rental industry clients over the last 25 years. IIG's Rental Management Software is certified by Sage Software. Sage MAS 500 ERP is the flagship product of Sage Software with 1000's of installations worldwide. The Sage Group reaches a global client base that numbers more than 5.8 million SMB customers worldwide. IIG is a Microsoft Gold Partner and a Sage Software Gold Development partner.
"We're extremely proud to offer this unique solution for the rental industry," says Alec Baghdasaryan, the founder of IIG. "Our research and development department went the extra mile to develop ERP features that no other rental software on the market offers."
Built on the leading Sage MAS 90, 200 and 500 ERP platforms, the Rental Maestro for MAS systems allows rental companies to:

Truly integrate the rental, production and sales management system
From opportunity to invoice
From production calendar to job-site sign-in
From operations to accounting
Built on a single framework within one package
Best-of-class "vertical" market functionality
All of the rental packages out there today are "vertical" solutions, with limited integration to AP, AR, GL, Cash Management and financial reporting. Some of the packages allow for AR management within the application, but still do not integrate with the general ledger. The lack of true integration significantly reduces or renders impossible the ability to quickly and easily get from source transaction to the GL. Features that are commonplace in most ERP packages such as automatic accounts postings, and accruals are rendered useless because the very limited functionality of the vertical solution is used in its place
Manage rental operations from generation of quotes, to flexible pricing and billing, to viewing inventory availability, to streamlined warehouse operations all in one program
Track costing of jobs by rolling up revenue and expenses for products sold, rentals, crews and sub-rentals
Schedule deliveries and pickups
Manage sub-rental purchase orders from costing, to tracking sub rental inventory, to generation of vendor return documents
Allow users to sell and rent on the same transaction, as well as selling or renting the same item
Combine all aspects of business operations in one ERP solution
The end result is less paperwork and fewer man hours because all aspects of the business, from rental agreements to invoicing to human resources to Customer Relationship Management (CRM) and other business functions are fully integrated into one software program.
About: Information Integration Group, Inc. (IIG) -- Founded in 1991, IIG is a leading Business Management Solution provider of Sage MAS 90, MAS 200 and MAS 500 ERP, and Microsoft Dynamics NAV for small and mid-sized businesses. As an award winning Master Developer, IIG has developed hundreds of solutions for today's business needs. IIG's diverse group of consultants and programmers are dedicated to helping you achieve critical business insights for bottom-line decision making through a full range of easy-to-use, scalable and customizable application. IIG is headquartered at 457 Palm Drive, Suite 200, Glendale, CA 91202.
# # #