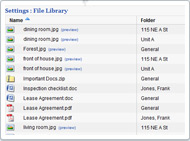 A property manager or private landlord can now quickly share important documents with owners and tenants.
Grants Pass, OR (PRWEB) February 06, 2012
Property managers today, more than ever, need flexible options for sharing data with their owners and tenants by means of their rental software. Rentec Direct, producer of popular property management software is introducing a powerful new feature which allows single click file sharing to either tenants or property owners, or both.
A property manager or private landlord can now quickly share important documents such as a lease agreement, property inspection report, and property pictures with their tenants. From the tenant portal a tenant simply clicks the file to review it or download it for their own records. Likewise, file sharing works with the owner portal for sharing critical files with property owners such as the management agreement, repairs, pictures, and other documents of interest to the owner.
File uploads for the property manager are done easily via an intuitive interface which allows the selection of any file type from their computer, phone, or tablet. Once uploaded, the files are encrypted and stored within Rentec's file vault for as long as the property manager needs. This provides a two-fold benefit for property managers using the service. First, their files are off-site in a secure location which is the best backup possible; and second, the files can be shared with their tenants or owners directly from the file vault.
To read about this new feature and other features included within Rentec's property management software, visit http://www.rentecdirect.com/blog
About Rentec Direct
Rentec Direct provides property management solutions for managing properties, tenants, and owners. Other popular solutions include, tenant ACH payments, criminal and credit tenant screening and online syndication of vacancies to more than 20 popular websites.
###