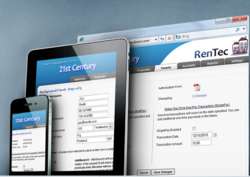 We are ecstatic about saving our clients time and money. Any chance we get to do this is a home run for our clients.
Grants Pass, OR (PRWEB) July 12, 2012
Property managers tend to pay the same bills month after month, and Rentec Direct property management software recognizes that reducing this otherwise time consuming process from hours down to just a few minutes per month can be a huge improvement to any property management organization. This service is not just a time saver for managers, but a huge money saver. This month Rentec Direct has released expanded bill payment solutions which fully automate the process of paying vendors with predictable monthly bills. This new technology offered by Rentec Direct is similar to what a bank customer would call online bill pay, just fine tuned for property managers.
This new feature, combined with Rentec Direct's check printing functionality makes it simple for all property managers, and private landlords too, to eliminate all data entry for recurring payments. Set it once, and each month at the property time a check is formatted and filled in for the vendor(s) and added automatically to the print queue. During the normal course of printing checks, these vendor checks are printed at the same time, making this process a near zero attention activity. All the appropriate accounting is taken care of at the same time, where the debit is entered into the appropriate ledgers and accounts so all reporting acts just as if it were a manually entered transaction.
"We are ecstatic about saving our clients time and money. Any chance we get to do this is a home run for our clients.", says Nathan Miller, President of Rentec Direct. "This is just one of many features we've rolled out recently which improve a property manager's operation and saves them time."
To learn more about Rentec Direct or these new features, visit their website at http://www.rentecdirect.com or their company blog at http://www.rentecdirect.com/blog
About Rentec Direct
Rentec Direct provides cloud based rental software solutions for property managers and landlords. Other popular solutions offered by Rentec Direct include tenant ACH payment processing and tenant screening, and online syndication of vacancies to more than 20 popular websites.