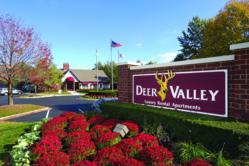 The property is a rarely available and highly sought-after North Shore garden-style apartment community. It is ideally located along a major job corridor in the north suburbs, which provides a steady stream of quality tenants.
Chicago, IL (PRWEB) May 17, 2012
Northbrook, Ill.-based Prime Property Investors (PPI) has announced it put its Deer Valley Luxury Apartment Homes, a Class A community of 224 apartments located in north-suburban Lake Bluff, Ill. and prime rental property investment, on the market for sale on May 15, 2012.
In 2011, PPI purchased and extensively rehabbed the property. Built in 1991, the community was originally developed by Lake Forest, Ill.-based luxury homebuilder Residential Homes of America.
"We saw great potential in this property as a high-performing rental property investment and used our extensive rehab and renovation expertise to transform it into a community with the modern amenities and sophistication its residents expect and demand," said Barbara J. Gaffen, co-CEO of Prime Property Investors. "The property is a rarely available and highly sought-after North Shore garden-style apartment community. It is ideally located along a major job corridor in the north suburbs, which provides a steady stream of quality tenants."
According to Gaffen, PPI decided it was an ideal time to offer the community for sale due to the current high demand by investors for quality apartment communities with solid and steady cash flows. Additionally, the Deer Valley community is offered free and clear of any debt, allowing a buyer to take advantage of today's historic low interest rates for multifamily investment properties, she said.
"Many comparable properties brought to market have existing mortgage debt at higher interest rates that must be assumed by the buyer and maintained as part of the transaction," said Gaffen. "Deer Valley has no existing debt assumption requirement, making it an especially attractive investment. Plus, when we first took over, rent rolls were $215,000 per month, and in less than a year they now exceed $250,000. We put our best practices and expertise to work on this community, and it's truly an example of what we can do for a property to enhance profitability quickly."
As a testament to the community's renovation, PPI will receive a 2012 Good Neighbor Award from the Chicago Association of Realtors (CAR) on May 24 for its work in renovating and improving Deer Valley Luxury Apartment Homes. "PPI is the only company this year to receive CAR Good Neighbor Awards for rehabbing suburban apartment communities, as we also won for our Naperville community, The Arbors of Brookdale," said Gaffen. "These awards honor rehab projects that increase a neighborhood's economic vibrancy and community pride, so we're thrilled our communities were singled out for this honor."
PPI made significant enhancements to more than 100 of the apartment units at the Deer Valley property, upgrading them with finishes such as dark wood cabinetry, stainless appliances, granite countertops, and new kitchen and bath faux wood vinyl flooring. The renovation of the remaining units is ongoing and provides a significant "value add" opportunity for prospective purchasers.
Recently upgraded on-site amenities are also a key asset of this property, says Gaffen, including a fitness center with locker rooms and an outdoor pool with sundeck. A 2,500-square-foot clubhouse includes a business center, a great room with fireplace and bar area, and the leasing office.
Other improvements included updates to landscaping and signage, all new building roofs, and completely renovated common area hallways.
Deer Valley Luxury Apartment Homes comprises 13 buildings on a 13.5-acre site with 297 surface parking spaces and 52 enclosed private parking garages.
There are 120 one-bedroom, one-bath apartments and 104 two-bedroom, two-bath units. Apartments feature fully equipped kitchens with garbage disposals, dishwashers, refrigerators, and individual in-unit washers and dryers. All units have private balconies or patios, and many feature wood-burning fireplaces and vaulted ceilings. Each apartment has an individual hot water heater and separate heating and A/C units.
Deer Valley Luxury Apartment Homes is located near major employers, such as Abbott Laboratories (directly across the street), and Great Lakes Naval Station.
The community is conveniently located near major expressways, such as IL 43, US 41 and Interstates 94 and 294, as well as the Lake Bluff Metra train station. Residents have easy access to shopping at Gurnee Mills outlet mall, as well as nearby dining and entertainment options. The community also is located within the top-rated Libertyville School District.
Deer Valley Luxury Apartment Homes is located at 30011 N Waukegan Rd., Lake Bluff, Ill. 60044. For more information, visit http://www.deervalleyapartments.com.
Parties interested in this rental property investment can contact Debbie Corson or Susan Lawson at Apartment Realty Advisors (ARA) at (312) 899-1094 or via email at dcorson(at)arausa(dot)com or slawson(at)arausa(dot)com.
About Prime Property Investors
Prime Property Investors (PPI) is a real estate and rental property investment firm with a national portfolio of Class A suburban garden-style apartment communities as well as student housing properties on major college campuses. Barbara J. Gaffen and Michael H. Zaransky, co-CEOs of PPI, founded the company in 1993, and today oversee $175 million in properties. For more information on Prime Property Investors, visit http://www.primepropertyinvestors.com.