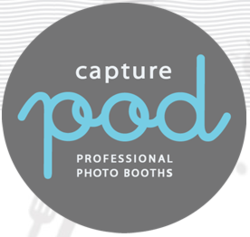 Miami, Florida (PRWEB) April 30, 2013
Photo booth rental company, Capture POD, added new locations in New York City and Los Angeles to satisfy the high demand for sophisticated, social media photo booths in these cities. The Miami-based company is the leading provider of professional photo booths in South Florida and has serviced over 250 events since 2010. Bloomingdales, Reebok, and Univision are just a few of the national brands at the top of their client list.
"We started receiving calls from ad agencies, marketing directors, brides, and event planners looking to rent the Capture POD photo booth outside of South Florida," says Carlos Pacheco, CEO of Capture POD. "They were all drawn to the POD's cool curved design, high quality photos, and marketing capabilities." Capture POD opened branches in New York City and Los Angeles in April 2013 and is now accepting bookings in these cities and surrounding areas.
Capture POD photo booths feature cutting edge technology that innovative marketers and corporate event planners are looking for, such as social media integration, video booth mode, complete branding, and email capture. "Our photo booth now let's you text pictures to your phone as well," says Pacheco. "We're excited to bring these innovative features into new markets."
For information on Capture POD Los Angeles and New York City photo booth rentals, please call 1-888-318-6120 or visit http://www.capturepod.com.
About Capture POD:
Capture POD offers modern photo booth rentals for special occasions and corporate events in South Florida. Their portable photo booths provide entertainment, professional-quality photography, and a unique experience at events.