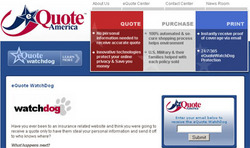 This is our way of doing what we can to give back to all of those brave individuals who are willing to lay their lives on the line for America
Humble, TX (PRWEB) September 18, 2008
eQuoteAmerica announces its nationwide renter's insurance program allowing consumers to receive an instant and accurate quote without entering any personal information. Rates are excellent in every state and the consumer can save enormous amounts of money because it is offered 100% automated,
Company President Brian J Wright explains, "In a time where your personal information has never been more vulnerable we would rather protect your privacy than sell you a policy. Allowing all visitors to receive an accurate renter's insurance quote without entering any personal information is a perfect example. We are also serious about saving the consumer money and our automated purchasing process accomplishes this goal."
Wright continued,
"We highly recommend that you never provide any personal information when receiving a renter's insurance quote. Obviously, after you have been provided the quote and want to purchase it you will have to, but any company asking for personal information before that is only stealing it."
eQuoteAmerica feels too many companies are false advertising, scamming, and stealing the personal information of consumers when shopping for insurance. Their popular eQuoteWatchDog Protection Service was developed for this reason more than any other. Thousands have signed up as it is a free service providing insider information on the good and bad in the insurance industry.
Wright explains,
"Thousands of people have signed up for this protection service as it provides a distinct advantage when shopping for any insurance or insurance related product online. We understand there are many choices throughout the insurance industry and if the consumer does not utilize us we still want them to be informed on the best and worst rated companies in the industry. We would rather consumers buy from our competition with a good ranking than our non competition with a bad ranking."
In addition to providing insurance coverage for renters and services to protect the privacy of each visitor, eQuoteAmerica is dedicated to supporting those who fight for freedom with its eQuoteMilitary NetWork. Every policy sold on equoteamerica.com money is donated to the United States Military and their families.
"This is our way of doing what we can to give back to all of those brave individuals who are willing to lay their lives on the line for America," explains Wright.
The NextGen Insurance … Quote. Purchase. Print.
To learn more about the eQuoteWatchDog, the eQuoteMilitary Network and to receive an online renter's insurance quote visit equoteamerica.com.
###