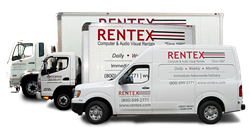 'We are very excited about this new location,' said Richard Flaherty, President of Rentex, 'This is our seventh location, and with this opening, we will be able to better serve our customers, not only in the Midwest, but throughout the entire country.'
(PRWEB) September 17, 2013
Rentex Computer & Audio Visual Rentals is pleased to announce that they have opened a new 25,000 square foot facility to better serve their Chicago and Midwest customer base. The facility opened its doors on September 1st and is located at 830 Supreme Drive, Bensenville, IL 60106.
"We are very excited about this new location," said Richard Flaherty, President of Rentex, "This is our seventh location, and with this opening, we will be able to better serve our customers, not only in the Midwest, but throughout the entire country." Prompt service, the guaranteed lowest rental rates, and the expanded availability of high-quality computer and audio visual rental equipment can be expected from this new facility.
Robert Moisan has been hired as the General Manager for the new branch. "I am very enthusiastic to be opening the newest branch of Rentex," said Moisan, "I have gotten great support already from the other offices, as we put things together in the Midwest and look forward to offering our clients the same quality in a new region of the country." Prior to working for Rentex, Moisan was the VP of Sales and Marketing for Intelligent Lighting Creations and the Director of Operations for LakeShore Audio Visual. Moisan began his career with Sound and Stagecraft as a warehouse technician and driver, and worked his way up to Logistics Coordinator. He has been involved in every aspect of event technology production throughout his 20 year career and brings a wealth of knowledge and experience to the Rentex team.
All of the equipment Rentex offers is available nationwide and can be immediately delivered anywhere in the US. Orders can be customized to meet the rental needs of all customers, and information on the products available for rent can be found on the Rentex website. Spec sheets, along with rental guides, can also be downloaded free of charge. No matter the circumstances or demand, Rentex rents a variety of computer and audio visual products to meet all your business needs.
Founded in 1980, Rentex is one of the nation's largest and most trusted providers of the latest computer and audio visual rental equipment. Rentex can deliver all rental items nationwide within 24 hours and same day delivery is available for most major cities across the country. During the rental period, maintenance, and technical support is provided free of charge. To view all available rental equipment and request a price quotation, visit Rentex.com or call 1-800-574-1702.