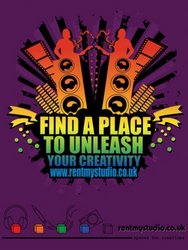 London, UK (PRWEB) October 8, 2008
Rentmystudio.co.uk is a free and innovative service which aims to provide a comprehensive search facility for those in need of the perfect studio. The site enables studio owners to rent out their studio to artists searching for the ideal place to be creative. Whether it be for music, photography, dance, art, film or any other creative use, Rentmystudio.co.uk provides "spaces for creatives".
Mike Rahimzadeh and David Jacobs, the masterminds behind this exciting concept, came up with the idea while studying Computer Science and e-Commerce at university. Mike, also a successful DJ and producer, was frustrated that there was no specific channel for artists to offer spaces and facilities to each other. And after desperately seeking a recording studio for his work, decided to take matters into his own hands. Rentmystudio.co.uk was born.
The site has been meticulously designed and tested to the highest level. The easy navigation allows viewers to search through an extensive list of studios And if viewers don't find what they are looking for, the team at Rentmystudio.co.uk will be sure to alert them as soon as it becomes available. All listings on the site are as comprehensive as possible, providing imagery, facilities, mapping location and even a list of customer reviews.
The site is giving away ipod shuffles to 10 lucky artists that sign up before the end of the month.
###