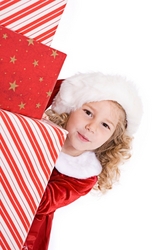 "The cost savings of renting toys vs. purchasing toys has always been one of the six core benefits of being a BabyPlays member." comments Company Founder, Lori Pope
Houston, TX (PRWEB) December 9, 2009
BabyPlays.com, announces its program to put toys under the tree this Holiday Season. As families look for ways to save money, BabyPlays has an exciting and economical solution.
"The cost savings of renting toys vs. purchasing toys has always been one of the six core benefits of being a BabyPlays member," comments Company Founder, Lori Pope. "However, this attribute takes on even more importance during this holiday season when parents are having to cope a bad economy and shrinking family budgets. We received countless emails and phone calls from parents last Holiday Season thanking BabyPlays for allowing them to put quality toys under their tree for a fraction of their purchase cost, and we are looking forward to the same response this Holiday Season."
For as little as $26.99 a month, a BabyPlays member can put five high quality toys under the tree and replace them with new toys every 60 days. This cost is substantially less than what an average American family spends on the purchase of toys - $720 a year for a family with one child and $1,200 a year for a family with two children. On top of the cost savings, BabyPlays' toy rental plans eliminate the after-Christmas pile up of toys that are not being played with anymore because the toys can simply be shipped back and replaced with new toys.
BabyPlays has been called "The Netflix of Toys" by numerous media sources, and is the world's largest online toy rental company. BabyPlays toys are tested extensively for lead, cadmium, arsenic and other harmful toxins and exceed U.S. Safety Standards.
In addition to saving their members money and providing rental toys that not only meet, but exceed, U.S. safety standards for lead and other harmful toxins, BabyPlays offers its members several other benefits:

The opportunity to play with unique and stimulating toys
A Green, environmentally friendly, concept – rental toys are "recycled" among members.
Less home clutter
The convenience of online shopping
Most toys are fully assembled; all come with batteries and all shipping costs are included. BabyPlays.com rents high quality, durable and innovative toys to families with children ages 5 and younger.
###