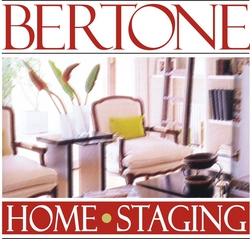 I'm really passionate about this. Little changes can go a long way. Cleaning up the kitchen and making sure the kitchen is visually appealing can persuade banks to finance a particular home.
Miami, FL (PRWEB) February 5, 2009
Bertone Home Staging, based in Miami, has been working with asset management and relocation companies, servicing them through the entire state of Florida, from Miami to Orlando to Tampa. The company recently added Atlanta to its coverage area and is in the process of expanding to other states. Angelina Perez, president and CEO of Bertone Home Staging, which recently opened up a real estate division, says the concept of using home staging to move inventory is really catching on industry wide.
"We are seeing Realtors do 15 to 18 price reductions at $5,000 per time, and that really doesn't work," says Ms. Perez. "They are figuring out there has to be a formula that will allow X company to stand out from all the others. We have 70 to 80 asset management companies and a zillion banks out there. It's not competitive for them."
406 Partners, an asset management company based in Salt Lake City, first began working with Bertone Home Staging back in early 2008 to service their properties throughout Florida."Although we are an out-of-state company and have primarily conducted our work with Bertone via e-mail, they have always made us feel at ease with their reliability," said Haly Thurgood, real estate support manager at 406 Partners. "The company has proven time and time again, that they can be relied upon to deliver a comprehensive design."
Ms. Perez is reaching out to Realtors to build relationships. She says some Realtors are shying away from staging, because they think the price will have to be raised after staging. "That isn't the case. The goal is not to increase the listing price, but to make cost effective changes that give the property what it needs to sell at the current competitive listing price. The client wants to know what they have to invest to move this property."
Asset managers and REO Realtors, who are in search of nationwide REO marketing, need to look for inexpensive alternatives like home staging, instead of lowering the price of the REO another $20,000. "Invest $5,000 for staging and price the property competitively. One Realtor I know took our advice and sold the property in three weeks in December 2008. Can you imagine how happy her client was? Because three months or six months later, that property is worth a lot less."
Staging is not just about furniture. This is what Ms. Perez tells her clients. Recently, she previewed a home where the problem wasn't the inside of the house -- it was the outside. "The house had been left in great shape and was clean but as soon as you approached the backyard all you could see was the neighbor's porch which was filled with a collection of junk and sparkly things hanging from his porch. You want to talk about distraction."
In a situation like that, the solution would be to easily and inexpensively attach a nice bamboo fence along the existing one, put some patio furniture outside and no one would ever have to look at that neighbors' mess again, she adds. "This particular property had been on the market for six months and had had multiple price reductions, which is really a shame because it would have taken such a small investment to eliminate the problem. It's simple tricks of the trade that we have and we know how to do. That's why staging is so valuable."
Adding mulch in the front yard can make a huge difference to the outside of an REO property as well as tree trimming. "There are so many things we can do as a staging company. And then there's the marketing. I send Realtors 15-20 high-quality photos to put on the MLS. It's marketing. Eighty percent of buyers go to the Internet first. You have to be descriptive. If the property is on a cul-de-sac, tell them it's on a cul-de-sac. Those things are essential."
Ms. Perez oversees four staging employees within the company, which is equipped to handle about 10 properties a week. The well-organized and well-stocked warehouse dictates this, she says. Furniture and accessories come from a privately owned 6,000-square-foot warehouse. The staff spends four to five hours staging. "We look at photos of properties as a group and share our perspective on each home as a group."
With more foreclosed homes dominating the market, Ms. Perez is excited to get the word out to asset managers who want to do something different and look at alternative disposition strategies. Staging properties from the start of the marketing process is a unique option. This is especially important when it comes to dealing with REO properties that are located side by side in the same neighborhood, she says.
"I'm really passionate about this. Little changes can go a long way. Cleaning up the kitchen and making sure the kitchen is visually appealing can persuade banks to finance a particular home." When the company sees an REO with no kitchen, BHS recommends a good cleaning, including a fresh coat of paint. The staging company then contacts someone from its network that does kitchen cabinets and has them do a rendering with color.
"We blow it up and put it up where the kitchen will go along with the costs for that kitchen. Now we have created a visual image for the buyer about the possibilities and also eliminated the uncertainty that comes along with the cost of a new kitchen. Buyers make up these crazy numbers when it comes to replacing things and then adjust their offer accordingly. What we do is eliminate that unknown dollar sign for them."
Source: Source Media
Contact:
Sarah Anthony
Bertone Home Staging
1-877-567-7824
http://www.bertonehomestaging.com
###