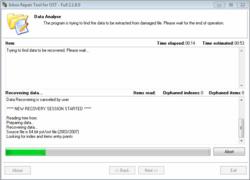 The price is reduced for the limited period!
Sacramento ,CA (PRWEB) December 22, 2011
New Year is coming so we announce the new Outlook Recovery tool for a low price. Even if the user has no experience repairing or recovering Outlook .PST files, the Inbox Repair Tool for PST http://www.outlook-pst.com can do the work with no headache or hassle. The toolkit is easy to install and even easier to run. It can repair and recover Outlook .PST email files with its error detection algorithm, automatically recovering and repairing files. The tool can identify the problems, and repair the data so that it is not lost forever.
With the tool, the user can preview the damaged files and their folder structure, whether or not they have Microsoft Outlook installed on their computer. Once the user previews the files they can be repaired so that the user can access their data.
Not only does the Inbox Repair Tool for PST ( download ) repair damaged files, it can also convert one version of PST files to another. Say the files were created in Outlook 2007. That means they cannot be read using Outlook 2003. The Inbox Repair Tool for PST utility can fix that – it just converts the file so it is readable with whatever version of Outlook the user has on their computer.
More people use Microsoft Outlook than any other email client. The PST format is used for email messages, notes, contacts, attachments, tasks, and calendar items. Because they can get so large, PST files are easily damaged and corrupted, leaving the data at risk because of software instability, hardware issues, or virus attacks. Now there is an inexpensive and easy-to-use tool that can read and recover the Microsoft files without the need for a third party recovery specialist or the stress and panic associated with essential lost files.
Download Inbox Repair tool for PST right now!
Read also about Email Recovery and OST to PST Conversion with Inbox Repair Tool for OST
# # #