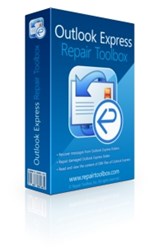 the latest addition to the company's portfolio that helps users repair DBX files damaged in various data corruption incidents.
Sacramento, CA (PRWEB) June 13, 2013
Repair Toolbox, a recognized expert in the field of data recovery solutions and file repair tools, releases Outlook Express Repair Toolbox, the most powerful product of its type on the market. The product helps repair DBX files used by Outlook Express for storing emails and other objects and requires absolutely no recovery experience of any sort, allowing users with basic computer skills to restore their data and get back to work within the shortest time possible. Thanks to the multi-step recovery wizard guiding the user from A to Z, every recovery session turns into a series of intuitive steps that even novices will have no problems with.
This product helps fix DBX files of versions 5, 5.5 and 6, works with DBX files of over 2 GB in size, saves email messages as separate *.eml files, outputs recovered data in plain text, HTML and RTF formats, restores file attachments and processes multiple files in the batch mode. The integrated viewer makes it possible to preview recoverable items prior to recovering them and mark specific ones for saving on the next step. When this tool attempts to repair a DBX file structure and save data as EML files, it preserves the original folder structure by creating corresponding folders on the hard drive.
"We are lucky to have such a great tool in our portfolio, since it's truly an invaluable asset for so many people out there using MS Outlook Express," says Ivan Bobrov, Senior Product Manager at Repair Toolbox. "Our customers should now that we have great plans for this product and will keep improving it with every release."