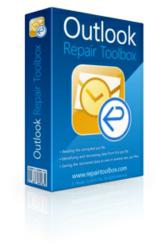 a powerful and easy-to-use tool that helps users repair Outlook PST files damaged in data corruption incidents of all sorts.
Chikago, IL (PRWEB) April 08, 2013
Repair Toolbox, a recognized expert on the market of recovery tools for mainstream applications, releases Outlook Repair Toolbox, one of the most advanced products of the company that helps users repair Outlook PST/OST files and recover their data. The program uses a sophisticated file analysis engine based on a combination of algorithms for accurate, fast and comprehensive recovery of messages and other objects from damaged Outlook files.
Outlook Repair Toolbox supports all major versions of Windows and formats of PST/OST files and restores more data than its competitors even in cases of serious data corruption. The interface of this Outlook recovery tool has been simplified to allow users of all skill levels to take advantage of its advanced functionality. The file analysis and recovery process is fully automated and requires minimal user input. When analyzing the structure of the damaged source file, the product makes no changes to its structure, enabling users to try other methods of recovery.
"Outlook Repair Toolbox is one of our best products, combining powerful algorithms and a very lightweight, no-brainer interface that even novices have no problems with," explains Ivan Bobrov, Head of Development at Repair Toolbox. "Being able to turn a damaged PST file into a perfectly readable one is a bliss that most users do not come to appreciate until they face this problem on their own. That is why we are happy to have offered them a tool that makes it a reality, time after time."
The trial version of the program can be downloaded from the official site free of charge: http://www.pst.repairtoolboxx.com/