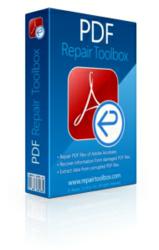 PDF Repair Toolbox is efficient remedy against the damage of Adobe PDF files.
Alexandria, VA (PRWEB) December 19, 2012
PDF Repair Toolbox is an efficient remedy against the damage of Adobe PDF files, caused by viruses, external attacks, simple download errors, file transfer issues, corruption of file system and other problems, affecting the privacy of PDF documents in use. In brief, it does not really matter why the data in specified format is corrupted, PDF Repair Toolbox successfully restore the structure of PDF files in use and convert this information into clean documents in the most cases of data corruption, affecting these files.
Users may know what others say about PDF Repair Toolbox by visiting the website of Repair Toolbox software and evaluating its easy interface. This method of repair Adobe PDF permits recovering the structure of PDF files without the necessity of getting backup copies and often useless redownload tries. This approach implies the privacy of analysis and safety of data processing regardless the state of information system in use. Users may unplug all network cables to make sure this tool works offline and keep on evaluating repair Adobe PDF solution.
Repair Toolbox software is expert in data recovery applications, repairing more than twenty data formats offline, without revealing the privacy of user personal information. It works on the market of software solutions for more than ten years therefore it has enough experience and qualification in helping users worldwide with their data recovery needs. The home of PDF Repair Toolbox is: http://www.repairadobepdf.acrobatrepairtoolbox.com/