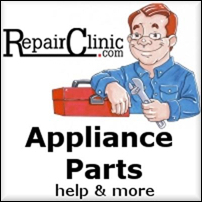 I shop online all the time, and love getting just what I need without leaving the house or worrying that it's going to be the wrong item
Canton, MI (Vocus) August 31, 2007
Often, the first sign that a dishwasher is broken is that it stops cleaning dishes and glasses properly. Faced with a dishwasher that's stopped working or has a missing dishwasher part, many consumers will pick up the phone and book an appointment with an appliance repairman. However, a Bosch dishwasher that's stopped working can now be fixed by anyone -- even someone with no experience with appliance repair -- simply by visiting RepairClinic.com.
"The latest Bosch dishwashers have a sensor that measures the dirtiness of water so washing cycles end when plates and clothes are clean," says Chris Hall, a former appliance technician himself, and a founder of RepairClinic.com. "We have just added these sensors and other items to our line of Bosch parts so that consumers can fix their dishwasher when it fails."
Lee P., a retired corporate vice president in Delray Beach, Florida, was frustrated by one of the racks of her dishwasher, which kept jamming.
"For about a month, my husband and I put up with a dishwasher rack that was a real pain to slide in and out," says Lee P. "It would fall out of the track, especially when it was fully loaded with pots and pans. We finally got tired of ignoring the problem and decided to take action."
A little hunting around revealed that she was missing two dishwasher parts: the rack wheels weren't where they were supposed to be. She found one wheel inside the dishwasher and snapped it back on. The other wheel… well, it had mysteriously vanished.
"It was just like the socks and dryer conundrum," says Lee. "I don't know where the second wheel went. All I knew is that I needed it, and this was one of those little things that could drive me insane."
Because her husband works for a major appliance manufacturer, she knew that repair was definitely an option. "No matter how complex an appliance might be, it's still made up of lots of pieces that can be replaced," says Lee. What Lee didn't know was just how easy it would be to find the part she needed.
"I shop online all the time, and love getting just what I need without leaving the house or worrying that it's going to be the wrong item," she adds. "RepairClinic.com definitely came through for me. The site is amazing - in just four clicks and for less than $10, I had placed my order. And just a few days later, the dishwasher was as good as new.
Consumers can save time and money with appliance repair DIY
Even if it's not obvious what's wrong with the dishwasher, or which dishwasher part is needed, RepairClinic's RepairGuru, the online automated expert, can help diagnose the problem. Consumers simply enter the symptoms online and the RepairGuru determines what needs fixing, which parts are required, and provides the instructions needed to do the repair. With RepairClinic.com, homeowners can repair their appliances quickly and inexpensively, with no need to wait for a technician.
RepairClinic.com makes it easy to find the right appliance part
The RepairClinic.com PartDetective identifies the right appliance part for any repair, and provides a photo, pricing and availability, avoiding complicated "exploded diagrams." Consumers who visit RepairClinic.com can also sign up for a monthly newsletter that provides valuable maintenance tips, straight from the experts. A monthly appliance repair calendar is available, here: http://www.repairclinic.com/0097.asp.
About RepairClinic.com®
RepairClinic.com was founded in 1999 with the idea that armed with the right advice, tools and parts, savvy consumers can extend the life of their appliances, save money, and conserve the environment. Consumers can visit http://www.RepairClinic.com for free appliance-repair help, or call a customer service representative at (800) 269-2609 for help locating specific appliance parts.
###