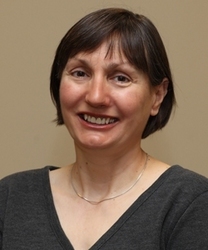 I try to approach every day with grace. I have many people I love and care about. But I also live in an unpredictable and fickle world. I try, every day, to make the best of the canvas that is presented to me.
Canton, MI (Vocus) April 21, 2010
Liliana Holtzman, Art Director for online appliance parts retailer, RepairClinic.com, recently launched a new blog: graciouslivingdaybyday.com. The blog focuses on Liliana's eventful life, from her family stories to her work, along with postings about cooking, health and wellness, and the many challenges and joys she, her family and friends face each day. The blog paints an accurate picture of Liliana, as she is an engaging person with many interests spanning a wide spectrum.
About Liliana
Married to husband, Jeff, for 27 years, and the mother of three children, Liliana is the Art Director and Graphic Designer at appliance parts retailer, RepairClinic.com. As a member of the original team that founded the company over 10 years ago, she continues to play an important role in the growth of the company, especially in the midst of preparations for the launch of the new website design to occur later this year.
A Unique Life Story
Liliana's life has not followed a carefully orchestrated plan…quite the opposite. Her life began in the far away land of Yugoslavia (now Serbia.) Although Liliana has lived in the US since 1973, her family in Europe has faced many challenges over the years: ethnic strife, war, separation of family members, loss of property, and in some cases, even loss of life. As is true for most, her experiences have developed in her a deep sense of family, human compassion and love of life. From stories of her struggle with breast cancer, to recipes from her dearest friends, tips about work station ergonomics, and appliance repair tips, the blog is indeed a mish mash of just about everything -- fitting for a woman who also is multi-faceted, with many experiences and much to offer the world as a result. In her own words, Liliana says of herself:
"I try to approach every day with grace. I have many people I love and care about. But I also live in an unpredictable and fickle world. There is not much that I can control in life except my responses to the challenges that come my way. So I try, every day, to make the best of the canvas that is presented to me."
A Sample of the Blog
Here is a portion of one of her blog posts about a friend whose mother is experiencing Alzheimer's symptoms:
"…we had Thai food, drank strong, hot tea and talked.
She was telling me about her mother, who is experiencing early symptoms of Alzheimer's disease. My friend is worried. Sometimes, her mom is perfectly fine and her worries seem unfounded. Her mom can make wonderful meals, keep the house clean, do laundry, go shopping. But then she forgets little things – the security code on the garage opener, dates and events, things that were obvious and familiar a few days ago.
My own mother started experiencing these kinds of symptoms in her late fifties. Assuming that she was depressed, we took her from one doctor to another, but no one seemed to know what the problem was. My mom was the most accomplished baker I knew, but now she would substitute salt for sugar in her tortes. And then, she would say that she didn't do it – someone else had sneaked in and played a trick on her."
As visitors read the blog, they will feel as if they've stepped into Liliana's living room and made themselves comfortable on the sofa with a cup of tea. As she begins to share what's on her mind that day, they very quickly gain an understanding of her family values and beliefs along with her thirst for learning.
To experience the blog firsthand, go to http://www.graciouslivingdaybyday.com
About RepairClinic.com
Founded in Canton, Mich., in 1999, RepairClinic.com® is the most comprehensive online resource for do-it-yourself home appliance repair help, parts and information. The site features more than 80 appliance brands—including Kenmore, Whirlpool, Maytag, GE, Frigidaire, and LG—across 16 appliance types (e.g., washers, dryers, refrigerators, stoves, ovens, and dishwashers). Do-it-yourselfers use the intuitive PartDetective®, to find the part they need or the leading-edge service, RepairGuru®, for customized, free repair help online. Appliance parts are stocked in a 72,000 sq. ft. facility and shipped the same business day. Visit http://www.RepairClinic.com for more information.
Media Contact:
Luanne Berk
PR Representative
luberk(at)comcast(dot)net
734-748-7512
###