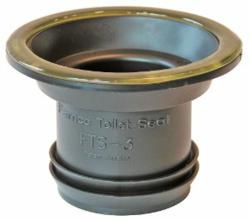 They are well worth the price for the peace of mind they afford
Erie, Pa. (PRWEB) April 17, 2013
DIY Home Fix Tips is constantly on the lookout for ways to make home repairs more efficient and less expensive.
Every once in a while a new product is introduced that is really worth the attention of the masses.
In this case it's mostly plumbers that will be interested, but anyone who has ever or will ever install or replace a toilet will be excited about this new product.
Up until recently, bees wax was the only product available to use as a seal between the toilet and the floor flange. The wax is formed into a round ring and is placed around the hole in the toilet flange and as the toilet is lowered into place, the wax compresses and forms the seal.
The Fernco Waxless Toilet Seal has a self sticking rubber seal that holds it tight to the bottom of the toilet and rubber seals around its shaft that seal it tightly to the inside of the toilet drain pipe.
Several sizes are available to accommodate most if not all drain pipes.
These toilet seals run about two to three times the cost of a wax seal at around $6.00 - $7.00. They are well worth the price for the peace of mind they afford.
Visit DIY Home Fix Tips for more information on toilet repairs and use of the Wernco Waxless Seal,
About DIY Home Fix Tips:
The DIY Home Fix Tips blog treats their readers to quality, no bull info, tips, advice, videos and helpful product ideas related to DIY home repair. Brian Whiteman, the blog's author, has spent over 35 years designing, building, remodeling, and repairing residential homes. Mr. Whiteman is still active in repairing homes in the Erie, Pa. area. For more information about DIY Home Fix Tips, please visit http://www.diyhomefixtips.info.