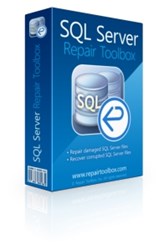 the most efficient and reliable solution for repairing MS SQL databases in the MDF format.
Alexandria, VA (PRWEB) February 27, 2013
Repair Toolbox, a software development company known for its impressive line of data recovery and file repair tools, announces the release of the largely improved version of SQL Server Repair Toolbox, an advanced MS SQL database recovery solution. Taking much after the rest of Repair Toolbox products in terms of UI, this software has an intuitive wizard-based interface that helps repair *.mdf file structure and data in a series of simple steps.
The program supports the recovery of data, views, keys, indexes, tables, procedures and other objects commonly found in MS SQL databases. Recovered data can be saved as a script on the user's hard drive or sent directly to a new database. Users can preview the list of recoverable items and mark the necessary ones for recovery. The program requires absolutely no special skills or knowledge of databases, which makes it a good choice for regular users looking to urgently recover important data from a corrupted database file or repair *.mdf file structure immediately after a file corruption incident.
"SQL Server Repair Toolbox offers a perfect combination of functionality, ease of use and accessibility for non-professionals," explain Ivan Bobrov, Senior Product Manager at Repair Toolbox. "We have attempted to keep the complexities of the recovery process inside and let the user make just a few important choices along the way. So far, the product has been extremely successful and we hope that the new version will give an extra boost to its popularity."
Software site: http://www.sqlserverrepairtoolbox.com/