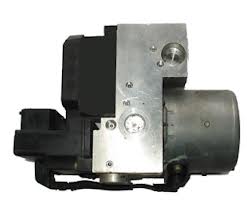 All orders for these used parts originating from the company website are eligible for these new markdowns online.
San Antonio, Texas (PRWEB) June 24, 2013
Braking systems and components have been advanced by technology in the past two decades. Automakers now rely on anti-lock braking systems to provide better stability and safety to vehicle owners. The AutoProsUSA.com company sells preowned parts and accessories for automobiles to the public. This company is now selling replacement ABS pumps under a special web price markdown online at http://autoprosusa.com/replacement-abs-pumps. All orders for these used parts originating from the company website are eligible for these new markdowns online.
The disc brakes used in earlier decades in automotive manufacturing were upgraded in the 1980s to include additional types that remain in use in this decade. Automotive industry advancements now include sensors, pumps and other working parts that provide easier braking technology for drivers.
Replacing brake system parts and components can be one struggle for an automobile owner who is unable to purchase at lower than retail prices. The inclusion of the ABS systems and components online by Auto Pros USA is supplying a better price to consumers seeking parts for installation.
"The brake system inventory now supplied is available for American made and foreign made automobiles," a source from the Auto Pros company said. These systems are preowned and supplied through secondary partners currently assisting this company with its inventory levels. More than one supplier in each state in the U.S. currently supplies the parts listed online for sale for consumer purchase or review.
"The preowned inventory that is listed is in above average condition based on year and wear and tear," the source added. The web quotation system now posted on the company website lists the current sale pricing for consumers.
The recent inclusions to the brake inventory include ABS, calipers and boosters that are used to complete the entire anti-lock braking mechanisms used in most vehicles. A news announcement was generated for the public last month at http://www.prweb.com/releases/brake-booster/used-brake-booster/prweb10712061.htm to announce the sale pricing and current inventory editions that are available online. The discounted price structure for the web markdowns are now applied to the complete brake inventory of parts and accessories available for American and import vehicles.
A recent announcement was made for secondary market suppliers interested in supplying the parts that are listed for sale online. Companies that are seeking better distribution for consumers can make direct contact with the Auto Pros company to list available parts that are warranted in the company database online. Contact can be made with this company using the following information:
Auto Pros USA
1270 Crabb River Rd.
‪Richmond, TX 77469
(888) 230-1731
(713) 560-7017
About AutoProsUSA.com
The AutoProsUSA.com company provides immediate access to its dedicated database of discount auto parts and accessories. This company supplies consumers access to these parts listings to help ensure buyers can view low pricing that is offered. Automotive supply companies handle the insertion and price adjustments for the current inventory listed. The AutoProsUSA.com company negotiates with companies in North America to provide fulfillment and parts warranties for all inventory listed online. The customer service supplied by this company is offered through its website and a toll-free telephone number system set up during standard hours of business.