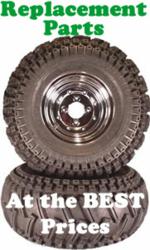 More than 10,000 golf cart replacement parts at direct source prices with 20% savings!
Atlanta, GA (PRWEB) February 26, 2013
Golf Cart Parts Outlet offers consumers a way to directly purchase replacement parts from the source. Average savings offered are around 20%. The company believes that replacing golf cart parts will extend the life of the vehicle and offers more than 10,000 parts in its 2013 e-commerce catalog which can be found at http://www.golfcartpartsoutlet.com. The golf cart parts range from tires, exterior body parts like bumpers, windshields, cargo boxes, covers to interior fixes like radio consoles. Popular options include a great selection of seats and performance enhancing power kits.
Visit Golf Cart Parts website to browse the company's selection of replacement golf cart parts.