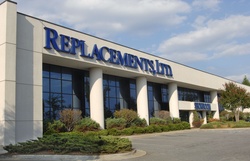 This really means a lot to me, especially when you consider I started this business in the attic of my home 27 years ago
GREENSBORO, N.C. (PRWEB) August 12, 2008
"This really means a lot to me, especially when you consider I started this business in the attic of my home 27 years ago," says owner and CEO Bob Page. "I feel extremely fortunate we've made sound business decisions that put Replacements in a position to grow and continue to provide jobs to nearly 550 people at a time when other companies are struggling in today's tough economic climate."
This marks the second expansion since the world's largest supplier of old and new china, crystal, silver and collectibles moved into the company's location at 1089 Knox Road in 1990. Replacements' current space totals 415,800 square feet, including its main facility and three owned or leased satellite warehouses. Plans call to add more than half a million square feet to Replacements' main building, which will allow the company to consolidate operations and create a working area of 750,000 square feet, roughly the size of 13 football fields.
"After reviewing our financial models, it's very clear that it will be much more cost effective long-term to expand as opposed to continuing to lease additional warehouse space," says company president Scott Fleming. "More importantly, we're always looking for ways to improve our customer service and by being able to move all of our inventory under one roof we'll have faster access to product and increase our efficiency, which is one of our top priorities."
Fleming says the vast majority of additional space will be devoted to warehousing and inventory storage needs. Company leaders anticipate construction will start in early 2009 and should last about one year.
About Replacements, Ltd.
Founded by Bob Page in 1981, Replacements, Ltd. carries the world's largest selection of old and new china, crystal, silver and collectibles. The company's 415,000 square foot facilities house an inventory of more than 12 million pieces from over 293,000 patterns. Headquartered in Greensboro, N.C., Replacements, Ltd. serves nearly ten million customers worldwide.
MULTIMEDIA GALLERY http://www.businesswire.com/cgi-bin/mmg.cgi?eid=5753521