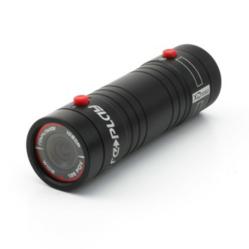 The Replay was the smallest of the four cameras, and seemed to have the best picture and sound quality. We were unanimous in picking it as our favorite among the four cams tested.
(PRWEB) July 27, 2012
The Replay XD1080 HD action camera offers a level of integration and well balanced design that other manufacturers have a hard time emulating. Enclosed in a water-resistant, hard anodized, rugged aluminum housing the Replay XD1080 is the smallest and lightest full HD action-camera on the market with a full range of customized Replay XD1080 camera accessories.
SMALL SIZE, FULL FEATURED
The Replay XD1080 action camera was designed to be as small and lightweight as possible. Replay XD1080 brings a full featured action camera to a unit smaller than a cigar.At just 1.1" x 3.6" and weighing in at 3oz, the Replay XD1080 is the smallest and lightest full 1080p POV cameras available.
FEATURE INTEGRATION & DESIGN
Unlike other helmet cameras that are bulky and require add on packs for extra features like HDMI streaming or audio out jack, the Replay XD1080 can stream full 1080 HD through the built-in HDMI out connector. Users can record and stream video simultaneously or just stream video straight to an external HD recorder.
TOP QUALITY VIDEO
Replay XD1080 features class leading optics. The high quality lens with its custom designed wide angle 135º, f3.1 lens, and anti-glare coating is finely-tuned to match the 5MP video sensor for better clarity, accurate color, and minimal image distortion besting it's competition in head to head tests.
BEST AUDIO
Quality audio makes a huge difference when viewing video action but it is too often neglected by camera manufacturers. Replay spent a lot of time obsessing over audio. The company spent thousands of hours developing, engineering, and testing the right combination of acoustic materials and microphones to suppress wind noise while maintaining realistic audio.
A recent Hot Rod magazine article states "The Replay was the smallest of the four cameras, and seemed to have the best picture and sound quality." The magazine was unanimous in picking it as the favorite among the four cams tested.
MULTIPLE RECORDING MODES
The Replay XD1080 action camera offers multiple recording resolutions, making it flexible enough for many shooting situations. 1080P@30fps, 960P@30fps, 720P@60fps, 720@30fps, Photo@1, 5, 10 & 15 sec, Internal Audio, External Audio, Rec, Stop, Play, Skip Forward, Skip Reverse, Clip File, Live Video Out.
INTUITIVE USER INTERFACE
The well thought out user interface is designed to be easy to use and understand. Set the recording mode once and it sticks. There's no need to count button presses or reset settings each time the Replay XD1080 is used. There is no worries about what mode the camera is in or what the settings are, just look inside the rear cover for a simple reminder.
MANY MOUNTING OPTIONS
Mounting options abound for the Replay XD1080, allowing the user to attach the camera to practically any surface or gear imaginable. The mounts rotate, tilt, swivel and clip anywhere. Replay offers more mounting options than any other action camera system. Pointofviewcameras.com carries the full range of Replay camera accessories.
Pointofviewcameras is the largest independent retailer of action cameras. The company sells to the US, Canada and throughout Europe via a network of retail web sites. Pointofviewcameras is the number one retailer for Contour camera Canada, Drift Canada and represent Gopro Canada as well.