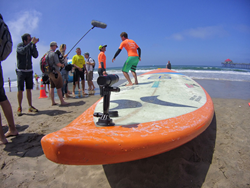 We are honored to have been able to be on site recording this amazing feat with our innovative Prime X professional HD POV action cameras so we can share it with the world. Shane Ruiz
Huntington Beach, California (PRWEB) June 23, 2015
On June 20th Replay XD captured all of the action through the lens of many angles of the epic giant surf board Guinness World-Record ride when 66 surfers along with Surf City USA and Visit Huntington Beach broke the world record for most people riding a surf board at once.
The giant surfboard measuring in at 42-feet long was rode by 66 people for 12 seconds, breaking the previous documented record of 47 people in Australia.
Replay XD was a significant part of the action by documenting this historic moment in Surf City USA where a new Guinness Book of World Records was set.
"We are honored to have been able to be on site recording this amazing feat with our innovative Prime X professional HD POV action cameras so we can share it with the world," said Shane Ruiz, Replay XD Director of Marketing. "The versatile Prime X is easy to configure, easy to use and provides results that are good enough for the for pro users and the everyday video enthusiast."
The Prime X is smallest of its competitors and is housed in a watertight cylinder, which is completely isolated from dust and water so no water housing is required. It is the first HD action camera to feature a custom miniprime cinema lens resulting in true professional grade optics, is supercharged allowing for 200% more battery life and lasts long enough to use all day for most stop and go activities. With an innovative iOS and Android app consumers can also quickly control and adjust advanced settings through their device.
For more on this World Record visit: http://bit.ly/WorldsLargestSurfboard. To learn more about Replay XD products, athletes, etc. visit http://www.replayxd.com, https://instagram.com/replayxd/, https://twitter.com/replayxd/, https://www.facebook.com/replayxd and #makeyourmark.
###
About Replay XD:
Replay XD was created by a group of racing and design professionals with over 50 years of experience in the high performance racing industry. The development team forever revolutionized the Professional POV Action Camera, by continually creating the smallest, lightest, ultra-rugged, and most versatile cameras made. Replay XD Action Cameras endure and capture never before seen video from human and machine in the most extreme environments on Earth. We create the finest Action Cameras on the Planet. With headquarters in San Francisco, California, Replay XD cameras, mounts and accessories are sold at dealers worldwide and direct at http://www.replayxd.com. Replay XD is the official camera of Pirelli World Challenge, Andretti Autosport, Australian Off-Road, Australian Superbike, Indy Lights, Josh Grant, L.A. SWAT, Mobil 1 SuperCup, Monster Army Recon Tour, Nick Baumgartner, Porsche Carrera Cup, Pro Mazda, Robby Gordon Stadium Super Trucks (SST), USF1000/USF2000 and Motocross/Supercross Champion Wil Hahn.