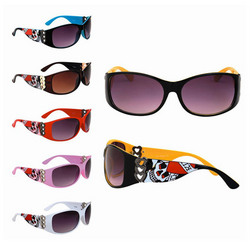 People love to wear different designs all the time and the replica industry provides them a viable option to own a large number of fashionable designs without pinching their tight budgets
Salem, OR (PRWEB) July 20, 2009
The economic downturn is taking its toll on all aspects of life. While sunglasses continue to be an important fashion accessory, more and more people are turning towards the replica sunglasses as a low cost alternative to the leading brand fashion sunglasses. CTS wholesale owner, Kirk Bachelder today reported seeing a distinct rise in sale of replica sunglasses with designs that can be compared to the leading brands.
"People love to wear different designs all the time and the replica industry provides them a viable option to own a large number of fashionable designs without pinching their tight budgets", reported Kirk. "The buyers can choose from a vast range of all types of designs at our web site, right from the comfort of their homes and order these online. They just love this convenient arrangement", he added.
Designs that can be compared to Ed hardy tattoo series sunglasses are quite popular this season and people are appreciating the trendy and cutting edge designs that look like a beautiful piece of art. The large lenses provide better safety and the rhinestone clad art deco designs on the frames make them look very cool.
The retailers having shops at the various malls and those setting up stalls at the fairs get these wholesale sunglasses at very attractive rates from the online site of CTS Wholesale sunglasses and sell in pairs for a handsome margin. This is a very attractive business, even on part-time basis as it offers margins around 500-700%. The convenience of anytime ordering, quick shipping and a responsive customer service really helps the retailers carry out their business without much hassle.
About CTS Wholesale Inc.
CTS Wholesale Inc. is a wholesale sunglasses company dealing in designer replica sunglasses. You can visit their online store at http://www.CTSwholesalesunglasses.com. Attractive discounts are available with quantity purchases.
Contact Information:
CTS Wholesale, LLC.
3525 Brady Ct. N.E.
Salem, OR 97301
United States
U.S.A. Phone: 503.364.3486
U.K. +44 (0)20 3004 9133
###