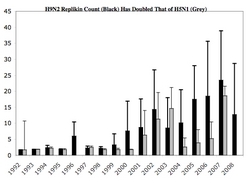 Boston, MA (PRWEB) January 21, 2009
The H9N2 strain of influenza commonly infects poultry and occasionally humans. Replikins, Ltd., using its FluForecast® software, has studied the Replikin Count® annually in each of H9N2 and its sister strain H5N1. H9N2 Count increases occurred in 1996, one year in advance of the 1997 H5N1 Hong Kong outbreak, and again in 1999-2000 and 2004-05, 2 years before the subsequent H5N1 Replikin Count increases and outbreaks (see Figure). Cyclic increases and decreases appear to be synchronous for H9N2 and H5N1, with H9N2 increases occurring in advance of, and being greater than those for H5N1. These two strains appear to have a precursor and/or competitor, evolutionary biochemical relationship. H9N2 may be an alternate candidate to H5N1 for the next influenza pandemic.
The Replikin Count® is the number of specific replikin peptides per 100 amino acids in the peak gene of each strain. All sequences published on PubMed worldwide. each year from 1992 to 2008 were studied. Increases in the Replikin Count represent rapid virus replication, and occur in advance of outbreaks (see refs).
The first cycle which has been detected in each virus genome is from 1999 to 2003, and the second from 2004 to 2008. In the second cycle, the maximal Replikin Counts (mean +/-SD) for H9N2 were greater than those in its first cycle, and double those seen to date in all H5N1 and other influenza strains (see refs.). This phenomenon of upregulation of the Replikin Peak Gene in successive replikin cycles in advance of increasing annual human morbidity has also been found by the Drs. Bogoch in West Nile Virus as it entered and expanded into the United States (see refs).
Virus replikins thus provide, to our knowledge, the first quantitative measures of virus structural change ever shown to correlate with and to precede virus outbreaks. Cycles of rapid replication of the virus with increasing replikin counts appear to be a means of virus expansion into new host populations and geographic areas, and of increasing infectivity and lethality.
The data suggests that additional increases in both Replikin Counts and consequent H9N2-H5N1 infections are anticipated in a coming third cycle. Suggesting that a third cycle has begun, after a 5 year absence, H5N1 reappeared in Hong Kong chickens in early December 2008. and an H9N2 infection in a child in Hong Kong was reported on 12/30/2008.
With this new ability to obtain advance virus structural information on coming outbreaks, the rapid (7 day) production of specific effective synthetic replikin vaccines is now possible, as Replikins, Ltd. has reported for a synthetic Taura Syndrome virus oral vaccine 91% protective in shrimp (see refs.).
References and Notes:
Detailed replikins data are published at the uspto website.
Replikins, Ltd. now is publishing two monthly e-mail reports by subscription:
1) "FluForecast®" - monthly replikins reports on influenza strains ($1,200. per year); and
2) "ReplikinsForecast®"- monthly replikins reports on non-influenza viral, bacterial, trypanosomal, and other emerging infectious diseases ($1,200. per year).
To order, e-mail jmckenney at replikins dot com.
###