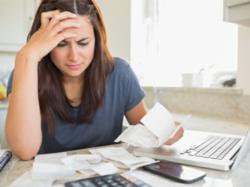 Be cautious to the unexpected things that can lower a credit score
(PRWEB) April 15, 2013
MSNBC news reporter Chuck Todd, just found out the "hard way" that not paying a traffic ticket is a collision that can put a dent in a credit report. The traffic ticket was for running a red light. Some might say the real hard way would be something even worse than a reduced credit score, as one person said in reply to his tweet "Why didn't you pay it? Doesn't seem ridiculous. U run a red light, U should get a ticket & be thankful u didn't cause an accident". Others were more sympathetic bemoaning red light cameras. As for Chuck he just thought it ridiculous that an unpaid traffic ticket could affect his credit. It's probably a good thing he found out since he tweeted in February he had just paid a fortune for speeding tickets.
Regardless of how one may feel about the right or wrong of the tickets it was actually the non-payment of the red light violation that would ding his credit and likely his insurance rates to boot. Some cities and municipalities started to turn to debt collection agencies some years back. The Washington Post reported at the time that cash strapped cities could earn millions in revenue if they could just get people to pay their tickets and fines. It was also stated that an unpaid ticket could cause a loss of 50 points on a 680 point credit score or a loss of 105 to 125 points on a very, very good 780 score. Which means of course the score would not be very, very good, anymore.
Insurance companies are in the business of assessing risk and getting tickets is seen as reckless and irresponsible. Since many insurance companies also base their premiums in part on credit scores it could be a double whammy, or wait is that a triple whammy? Driver's license damage, credit credibility damage and damage to the pocketbook in increased insurance rates. Added to other difficulties a credit score could end up totaled.
Some of the other surprising things that could help crash that score include:
Overdue library books - those fines that accidently slipped a person's mind could cost them. Some libraries have also started sending them to collection agencies.
Non-payment of utility bills - repeatedly delinquent payers can be reported to the credit bureaus and sent to the collection agency.
Back taxes - a tax lien can be placed on a taxpayer and it can stay on a credit record for up to 15 years, which is longer than a bankruptcy.
Unpaid medical bills - this may not surprise everyone but it may surprise a few, they too can be turned over for collection which will then affect a credit score.
Closing unused credit accounts - doing so may affect an individual's credit utilization rate, thereby lessening the available amount of credit and potentially lowering a score.
Identity theft - because large amounts of charges will be reflected in a report, until those charges are settled via the creditors involved they will remain on a report.
Errors - be they paid off accounts not cleared by the lenders or a mix up with another who has a similar name, they can affect credit.
Depending on the type of job, or employer the damage could also include employment difficulties as some employers run credit checks. To an employer, a bad credit score may be seen as a lack of responsibility or poor decision making skills and cause them to put up a stop sign for hiring. From employment to being handed the keys to that new car, or moving into a dream home, having good credit is important.
Once a credit report has to go into the repair shop a lower score means higher interest rates and fees. Don't find out the "hard way" like MSNBC reporter Chuck Todd about the things that can lower a credit score. At CreditData.com there are articles to help the consumer be informed about being credit wise, which will help them to safely navigate life's highways.