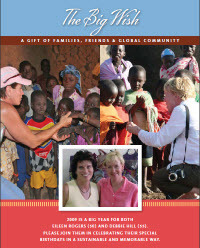 Since its inception in 1995, Republic West has given back to the community regularly. It is a part of our culture that makes us proud
Scottsdale, AZ (PRWEB) September 28, 2009
Arizona home remodeling company, Republic West, headquartered in Scottsdale, Arizona, is pleased to announce their support for community outreach program, The Big Wish. The Big Wish project was started by long-time community volunteers and social activists Debbie Hill and Eileen Rogers.
While many people celebrate milestones with a big trip to a faraway place or an extravagant party, Eileen Rogers has chosen to celebrate her 50th birthday this year to raise funds to build a school in Mali, a landlocked country in West Africa. The goal is to build a 90-student, two-classroom, brick and cement school and related sustainable projects in the in the Mali village of Tourari, located approximately 10 miles west of Timbuktu.
"Since its inception in 1995, Republic West has given back to the community regularly. It is a part of our culture that makes us proud," said Linda Zimmerman, co-owner of Republic West. "This year our community outreach program has adopted Eileen Roger's big birthday wish and we are fully committed to helping Eileen reach her goal of building a school in Mali, and we hope others do the same."
Throughout the year, Republic West employees have been taking on small donation projects to help out local charities. Just last month, Republic West employees made a donation to the Make a Wish Foundation. Employee participation was high - over 65% of employees donated money. The committee, named The Republic West Volunteer Committee, focuses employee efforts throughout the year on community projects to benefit the local community, Republic West coworkers and their families.
To join Republic West in their support of "The Big Wish" please visit Turtlewill and make a donation.
For more information about Republic West's home remodeling services in Arizona and the Phoenix Metro area, visit RepublicWest.com.
About Republic West, Inc.
Republic West, Inc. is a leading home improvement company specializing in energy efficient window and door replacement, cabinet re-facing, complete home remodeling including kitchens, bathrooms, home offices, entertainment centers and room additions. Headquartered in Scottsdale, Arizona and founded by Linda Zimmerman and Jim Weisman in 1995, Republic West is an operationally driven company that utilizes various disciplines, processes and procedures to help insure that it can deliver what is promised and is careful to only promise what it can control.
A revolutionary company, Republic West hires, trains, and staffs best-of-class operational management, senior and apprentice foreman, customer service personnel, division administrators, and design and sales staff, thereby ensuring that for every project, service does not become a byword. T.O.P Assurance (Thorough Operational Process) is an integrated 3-phase, track-able process designed to create synergy before, during and after your home improvement project.
###