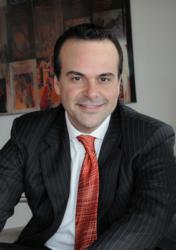 Miami, FL (PRWEB) August 07, 2012
República – one of America's leading cross-cultural advertising, digital and communications agencies – announced today that its Chairman and CEO Jorge A. Plasencia has been selected by PRWeek to the 2012 "40 Under 40" list honoring the top forty professionals under the age of 40 in the marketing and communications industry. PRWeek selects honorees from nominations submitted by their colleagues and peers.
PRWeek touts Plasencia, 38, as "one of America's most influential Hispanic leaders" and notes República's accomplishment achieving double-digit growth every year since its founding in 2006 despite the tough economic climate.
In addition to heading República, Plasencia is a devoted philanthropist and was recently appointed board chair of the National Council of La Raza (NCLR) board of directors. Recently, he was also named the 2012 Ernst & Young Entrepreneur Of The Year® in the Florida Emerging Business category.
Prior to founding República with business partner Luis Casamayor, he was the corporate vice president of marketing and communications at Univision Radio and operating manager of the Univision Radio Network. He also worked for Estefan Enterprises, the entertainment and hospitality conglomerate founded by Gloria and Emilio Estefan and was the first director of Hispanic marketing for the Florida Marlins.
"The República family is thrilled that Jorge has been recognized with such a prestigious industry honor," said Luis Casamayor, República's president and chief creative officer. "Jorge's humility, coupled with his extraordinary marketing acumen and his unwavering commitment to our employees, clients and community, have been paramount to our continued growth and success," added Casamayor.
Plasencia is a member of the Council on Foreign Relations and the Young Presidents' Organization. He is a founding board member and serves on the advisory council of the Congressional Hispanic Leadership Institute, and serves on the board of the Association of Hispanic Advertising Agencies and the Miami Dade College Foundation, among others. In 1991, he cofounded Amigos For Kids, a Miami-based nonprofit organization for underprivileged children and families. His work earned him the March of Dimes "Humanitarian of the Year" award.
About República
Founded in 2006 by Jorge A. Plasencia and Luis Casamayor, República is one of the nation's fastest growing, fully integrated cross-cultural marketing companies providing advertising, branding, promotions, interactive and communications services. Its diverse stable of clients includes some of the world's most important brands. The company is based in Miami with satellite offices in several markets. For more information, visit http://www.republica.net, Facebook.com/RepublicaWorld or follow on Twitter @RepublicaWorld.