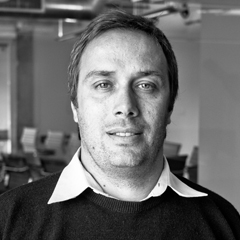 I am certain that his expertise in both the general and Hispanic markets will be instrumental to our continued growth," stated Luis Casamayor, President and Chief Creative Officer
Miami, FL (PRWEB) November 10, 2011
República, a cross-cultural advertising, branding, promotions, digital and communications agency, announced today the appointment of respected marketing leader Stephane Cantarel as Senior Director of Client Services. With more than 15 years of success in both the general and U.S. Hispanic markets, Cantarel joins República from Alma DDB, where he spent 11 years in various capacities within the agency's account services department. Until recently, Cantarel was an Account Director on the national McDonald's account.
"I am very proud to join República and its talented team," Cantarel said. "I sincerely believe that the agency's foundation is the right model to attract both general and Hispanic market clients. Every day I am more convinced that I made the right choice in coming to a growing agency that strives to succeed and creates quality work for its clients under an amazing leadership team."
Cantarel's expertise includes multicultural marketing, promotions, broadcast management and event marketing, and he also has a strong understanding of the Latin music business related to advertising and event marketing. In 2000, Cantarel joined Del Rivero Messianu Advertising (Alma DDB's predecessor) to direct the national U.S. Hispanic McDonald's account. He developed the company's national advertising effort for several product categories and managed advertising and promotions for its national Latin music program. In 1996, Cantarel joined Castor Advertising in New York, handling account management for both the national Kmart and GMC Trucks accounts.
"We are pleased to welcome Stephane to the República family," stated Luis Casamayor, President and Chief Creative Officer. "With a unique personal and business background, Stephane brings a wealth of experience and relationships to our agency. I am certain that his expertise in both the general and Hispanic markets will be instrumental to our continued growth."
Cantarel's responsibilities at República include leading the integrated account management within the advertising, branding, digital and promotions practices. Cantarel received his bachelor's degree in advertising and marketing, cum laude, from Emerson College in Boston.
About República
Founded in 2006 by Jorge A. Plasencia and Luis Casamayor, República is one of the nation's fastest-growing, fully integrated marketing companies providing advertising, branding, promotions, interactive and communications services. Its diverse stable of clients includes some of the world's most important brands. The company is based in Miami with satellite offices in several markets. For more information, visit http://www.republica.net or http://www.facebook.com/RepublicaWorld, or follow us on Twitter @RepublicaWorld.
###