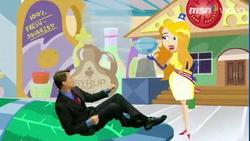 Unilever and I Can't Believe It's Not Butter!® are among the most progressive and esteemed advocates of branded digital entertainment and we are thrilled they have partnered with us and MSN on this episode of Republicrats
Los Angeles, Calif. (PRWEB) October 24, 2008
Generate (http://www.generatela.com), the independent production and management studio, today announced a partnership with the I Can't Believe It's Not Butter!® brand to sponsor this week's episode of MSN's popular political scripted satire Republicrats, which Generate produces with the show's creator and star, Sean Masterson. In addition to several rich media ad placements across the interactive Republicrats site (http://republicrats.msn.com), I Can't Believe Its Not Butter(R) spray animated character, Spraychel, was integrated within an episode running this week.
In today's episode, Masterson's character, discouraged by the latest presidential polls, goes on a junk food binge and dozes off while watching television, awakening in the animated world of "The Fridge," where the Spraychel character was recently elected president as part of the highly successful Vote for Spraychel campaign. Finding common ground, Spraychel endorses the equally-animated Masterson's candidacy for President of the United States which reinvigorates him to fight on against the higher-profile campaigns of Barack Obama and John McCain.
"Unilever and I Can't Believe It's Not Butter!® are among the most progressive and esteemed advocates of branded digital entertainment and we are thrilled they have partnered with us and MSN on this episode of Republicrats," said Jordan Levin, CEO of Generate, which developed and produces the series for MSN. "The thematic similarities between Republicrats and the Vote for Spraychel series presented an ideal opportunity to seamlessly pair an innovative brand with Generate's own brand of digital storytelling and MSN's reach."
"We have had great success in integrating I Can't Believe It's Not Butter!(R) Spray into new media outlets to engage our consumers. Being part of a hit Web series like Republicrats is a great extension of that strategy," said Keith Bobier, Senior Director of Marketing for Unilever.
Republicrats follows Masterson as a former weatherman who forms the "Republicrat" party and runs as the party's presidential candidate. Masterson's approach is to allow the American people to make every major decision in his campaign. Viewers have the opportunity to share their opinions on Masterson's various platforms and pitch themselves to be a part of his presidential Cabinet.
Republicrats was the first release of Generate's fall 2008 slate that also includes Somebodies, BET's first original scripted series, the second season of dark Web comedy Pink: The Series and Chocolate News, which premiered October 15 on Comedy Central.
MSN runs Republicrats twice weekly through November 10th.
About Generate
Launched in 2006 by leading entertainment executives with diverse experience in television, film, digital and talent management, Generate is the first independent production and management studio established to develop franchise entertainment properties for the transmedia generation. Generate develops professionally produced, premium content that can migrate from broadband to television, film, publishing and beyond, and creates innovative concepts to integrate into the advertising, technology and entertainment communities. Generate's talent management arm boasts a large concentration of online talent including actors, comedians, writers, producers and directors. Headquartered in Los Angeles and New York, Generate was recently named by TV Week magazine as a Top Web Video Creator and to the 2008 AlwaysOn OnHollywood 100 as a top private company in digital entertainment and media. The company completed a $6 million Series A round backed by Velocity Interactive Group and MK Capital in March 2008. For more information on Generate visit http://www.generatela.com.
Media Contacts:
Wilson Cleveland
CJP Communications for Generate
212.279.3115 x207
wcleveland@cjpcom.com
###