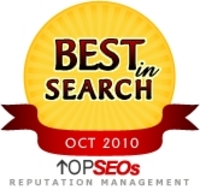 Topseo, UK (PRWeb UK) October 28, 2010
the most prestigious independent authority on companies that provide internet marketing services and products, has evaluated and ranked Reputation 24/7 within the top 2 companies that provide this type of services in the UK.
In order to prepare the most accurate and unbiased ranking list Topseos review each of the vendor's portfolio. This way they see first-hand the quality of the work they have completed. They also contact clients in order to get a better picture and measure their satisfaction with the service they have received. All this information is compiled and used to create the list of the best companies in the UK.
Reputation 24/7, a Reputation Management Company based in Liverpool, is run by Nathan Baker. They "understand that reputation is the most valuable asset a person or business has. Reputation is not built overnight; it takes great effort, hard work and years to build it. But it only takes one unhappy customer, employee or malicious competitor to ruin it." Says Reputation 24/7's Nathan Barker.
With their professional SEO skills and knowledge of the online marketing industry, Reputation 24/7 has built their own reputation by providing first class services to people and business looking for help to gain their reputation. They ranked top 2 among all the Reputation Management companies in the UK!
About Reputation 24/7
Reputation 24/7 is an online service that provides real-time data to SME's on how their brand, intellectual copyright and overall reputation are portrayed on the internet. They count with experienced professionals led by Nathan Baker and their main goal is to help people and businesses regain their reputation.
###