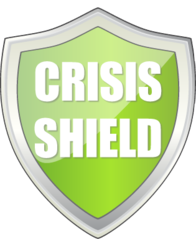 Trackur's online reputation insurance is offered without additional charge.
Raleigh, NC (PRWEB) February 04, 2013
Trackur, one of the world's largest providers of social media monitoring tools, today announced the addition of complimentary reputation insurance for its customers. An industry first, CrisisShield offers free protection for Trackur customers facing an online reputation attack that hurts their brand or damages their Google reputation.
According to Trackur CEO Andy Beal, "Trackur already provides the very best online reputation monitoring and with CrisisShield we now close the loop by offering our customers full protection for their online reputation."
Trackur's CrisisShield reputation insurance launches today for all customers on the company's Premium and Ultimate plans and provides valuable benefits including:

Up to two hours of online reputation management & crisis response consulting. Additional hours charged at a discount on the normal hourly rate.
Up to two hours of legal counsel. Advocacy on your behalf, and additional hours beyond initial assessment and counseling charged at a discount on the normal hourly rate
Up to two hours of crisis monitoring advice and Trackur dashboard optimization.
A 25% discount off your existing Trackur plan (or higher) during the reputation crisis.
A copy of the critically-acclaimed book Radically Transparent: Monitoring & Managing Reputations Online.
For more information on CrisisShield please visit: http://www.trackur.com/reputation-insurance.
About Trackur
Founded in 2007, Trackur has helped more than 60,000 businesses and individuals to monitor their reputation with sophisticated and easy-to-use social media monitoring tools. You can learn more about Trackur at http://www.trackur.com.