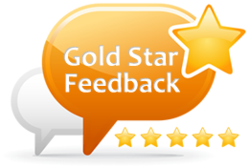 You cannot react to what you don't know. Reputation management is about listening to your customers and building on that conversation. -- Dave Jabas
Apple Valley, MN (PRWEB) March 27, 2012
Helping small businesses monitor online reviews is now a core functionality of the Goldstar Feedback system. Goldstar Feedback was developed by local search marketing expert, Dave Jabas to help small businesses, including dentists and chiropractors, boost their visibility though positive online reviews. The service now offers an equally simple solution for online reputation monitoring to help these businesses stay engaged with customers.
"The addition of this reputation monitoring functionality underscores our commitment to helping small businesses perform critical marketing tasks with minimal effort," commented Dave Jabas, Goldstar Feeback's founder. In order to alleviate "dashboard overload," Goldstar Feedback has decided to provide reputation monitoring reports delivered directly to businesses via email. The goal is to put the information in front of business owners in a convenient format.
Goldstar Feedback is creating a suite of tools that simplifies online marketing efforts for small businesses. In order to compete in the local market, small companies are increasingly aware they need positive online reviews. These reviews are an important conversion beacon that serves to drive foot traffic to a business.
It is no longer enough to simply solicit online reviews from customers. Savvy business owners know that proper engagement is important. Customers must know they are being heard. The common problem faced by small business is lack of time to monitor these reviews. Goldstar Feedback's solution monitors up to eight review sites including the popular Google Reviews, Yahoo, Yelp and Insider pages. Weekly emails sent to participating businesses show new activity directly in their inbox.
"It's critical that businesses know what their customers are saying about them online," said Dave Jabas, Goldstar Feedback's founder. "Timely response requires timely input. The reputation monitoring feature allows businesses to stay informed."
About Gold Star Feedback:
Gold Star Feedback is an online review tool for businesses who need online reviews. Patients can text a review in seconds. Because this tool makes posting reviews fast and easy, practices enjoy better than average response rates from their customers. For more information and to see results from actual dentists using the service, visit http://www.GoldStarFeedback.com