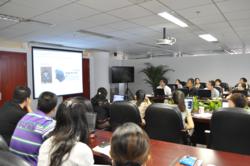 You can't build a reputation on what you are going to do.
― Henry Ford
Newport Beach, California (PRWEB) January 04, 2013
California's leading online reputation management (ORM) company supports the call for the rise of more young entrepreneurs as 2013 has been declared their year.
As Telford Enterprise Hub launched its New Year encouragement for people under the age of 30 to have their business to "make their own jobs," Shropshire declares 2013 as the Year of the Young Entrepreneur.
Fay Easton, Young Britain co-founder and Telford Enterprise Hub director, urges unemployed young people to start their own business.
"More than one in five young people are out of work and many young people coming out of schools, colleges and universities are adding to those unemployed numbers of jobseekers.
"We should be steering young people to the opportunities in SELF employment" Easton adds.
"You may not be sure what sort of business you can start but you will have talents and skills that will convert to earning through self employment income."
"2013 is your year. It is truly going to be The Year of the Young Entrepreneur,"
Reputation Enforcement thinks that this encouragement should also go to young Americans. The company believes in the power of business and how it can help the economy more. Also, they point out that young people nowadays have more resources as technology provides lots of opportunities so all they need to do is take advantage of it.
To show support, Reputation Enforcement then gives advice's to those who want to heed this call in utilizing the marketing opportunities presented on the web.
Why the web
More and more businesses around the world are discovering the advantages of online marketing and proper audience targeting. The majority of today's consumers are tech savvy, with at least an individual of the household owning a computing device, such as a computer or laptop or a tablet with a higher chance of them owning a smartphone. Businesses understand the market has moved into the internet.
Problems making online marketing ineffective
According to Reputation Enforcement, online marketing does not guarantee expected results all the time. There are other factors involved in the outcome. Here are some of these challenges many overlook.

Wrong ad placement – some ads are not placed where their majority of their audience is located. For example, placing ads in wrong websites or topics relating to the product or business.
Weak online visibility –if the company's website or "web presence", including its services offered, is not appealing there is still a low possibility of customer increase. It is also important to ask yourself, "How often do you interact with your consumers online?"
Bad reputation – with the easy accessibility of the internet nowadays, consumers can easily research any company they may consider doing business with. This means bad PR, reviews and any type of negative content can be easily accessed.
For online marketing to be effective to the fullest, any issues should either be avoided or addressed by the company or business owner.
Reputation Enforcement's Tips
To help solve the mentioned problems above, Reputation Enforcement gives you some simple and effective tips:
Strategize – make sure the ads and any type of online marketing materials are placed where your targeted audience is. This includes any relevant web sites, search pages or web content heavy sites. For example, if you sell sportswear and equipment, make sure to hit any relevant keyword and pages that offer, sell or speak of sportswear and sports equipment's.
Proactive – be more visible and approachable to your consumers. Participate more in social media pages by replying or starting topics with your consumers. By being proactive and accessible, your audience will happily endorse your brand in any social media platform they are participating in.
Reputation Management – protect your brand from any negative attacks or use reputation management to rebuilt trust and reliability within your products and brand with your consumers.
As experts in this business venue, Reputation Enforcement strongly believes online marketing is a power tool, when used correctly, in building a business success. The internet has been formatted to reach a vast amount of people in any given time with the use of social media platforms, online advertisements and other sources readily and for the most freely available.
About Reputation Enforcement
Reputation Enforcement is a California-based ORM service provider. Considered one of the leading companies in the industry, RepEn has been able to help various businesses and professionals of different venues improve their online presence.